Benefits:
BY WISHTREND Mandelic Acid 5% Skin Prep Water contains 5% mandelic acid that easily penetrates skin to help improve pigmentation and heal blemishes. Along with beta-glucan, panthenol, centella extract and sodium hyaluronate, this toner restores hydration while gently exfoliating skin at the same time without irritation. Suitable even for sensitive skin.
It contains 5% mandelic acid, which is an alpha hydroxy acid (AHA).
Mandelic acid is derived from almonds and is a milder AHA.
It gently exfoliates the skin, removing dead skin cells and unclogging pores.
It helps improve skin texture, tone, and the appearance of acne scars.
Suitable for most skin types, including sensitive or acne-prone skin.
Enhances the absorption of other skincare products.
Use sun protection when using this product due to increased sun sensitivity.
How to Use:
Start with cleansed and dry skin. You can use your regular facial cleanser to cleanse your face and pat it dry.
Take a cotton pad and pour a small amount of the Mandelic Acid 5% Skin Prep Water onto it. You can start with a few drops and adjust as needed.
Gently swipe the soaked cotton pad across your face, avoiding the eye area. You can also include your neck and décolletage if desired.
Pay extra attention to areas with specific concerns, such as acne scars or hyperpigmentation.
Allow the product to absorb into your skin. There's no need to rinse it off.
Follow up with the rest of your skincare routine, including moisturizer and sunscreen.
It is recommended to use sunscreen during the day when using this product, as AHAs can increase sun sensitivity.
It's important to note that everyone's skin is different, so it's best to start slowly and patch test before incorporating the product into your regular skincare routine. If you experience any irritation or discomfort, discontinue use and consult a dermatologist or skincare professional.
Ingredients:
Water, Mandelic Acid, Butylene Glycol, Beta-Glucan, Panthenol, Glycyrrhiza Glabra (Licorice) Root Extract, Prunus Amygdalus Dulcis (Sweet Almond) Fruit Extract, Sodium Hyaluronate, Sorbitan Sesquioleate, Centella Asiatica Extract, Houttuynia Cordata Extract, Sorbitol, Dimethyl Sulfone, Chlorphenesin, Sodium Citrate, Arginine, PEG-60 Hydrogenated Castor Oil, Ethylhexylglycerin, Natto Gum, Carbomer.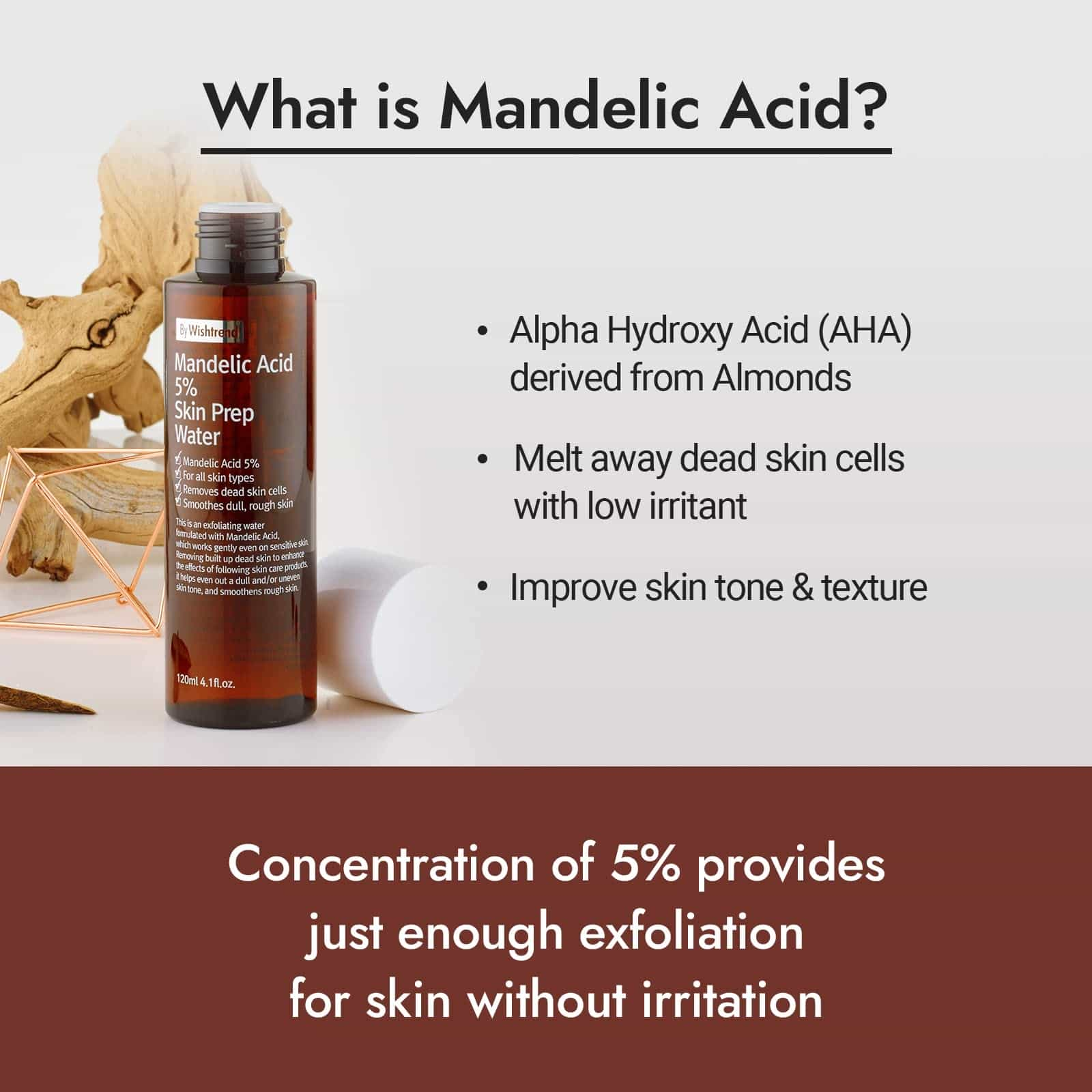 Buy 100% authentic BY WISHTREND Mandelic Acid 5% Skin Prep Water at Agetune. We provide cash on delivery in all over Bangladesh.