In the ever-evolving world of skincare, the ISNTREE Hyper Retinol EX Serum is making waves for all the right reasons. Packed with potent ingredients and formulated to target the signs of aging, this serum promises to be a game-changer for those seeking youthful, radiant skin. In this article, we'll delve into the world of ISNTREE Hyper Retinol EX Serum, exploring its key ingredients, benefits, and how to incorporate it into your skincare routine.
Unlock the Youthful Secret with Retinol:
Retinol, a derivative of vitamin A, is renowned in the skincare world for its remarkable anti-aging properties. It effectively tackles fine lines, wrinkles, and hyperpigmentation, making it a must-have ingredient for anyone seeking youthful and radiant skin. ISNTREE Hyper Retinol EX Serum harnesses the power of retinol to provide visible results.
Key Ingredients:
Retinol: As the star ingredient, retinol stimulates collagen production, enhances skin cell turnover, and reduces the appearance of fine lines and wrinkles.
Centella Asiatica Extract: Known for its soothing and healing properties, this ingredient helps calm and repair the skin, making it ideal for those with sensitive skin.
Niacinamide: Also known as vitamin B3, niacinamide brightens the skin, minimizes pores, and improves overall skin texture.
Adenosine: This natural compound energizes the skin cells and aids in reducing the appearance of fine lines.
Sodium Hyaluronate: A form of hyaluronic acid, it hydrates and plumps the skin, resulting in a smoother complexion.
Benefits of ISNTREE Hyper Retinol EX Serum:
Reduction of Fine Lines and Wrinkles: Regular use of this serum helps diminish the appearance of fine lines and wrinkles, promoting a smoother complexion.
Improved Skin Texture: Niacinamide and adenosine work together to refine the skin's texture, leaving it soft and supple.
Brighter, Even-Toned Skin: The serum's blend of ingredients helps fade dark spots and hyperpigmentation, revealing a more even skin tone.
Enhanced Hydration: Sodium hyaluronate ensures your skin stays hydrated, reducing dryness and flakiness often associated with retinol use.
Gentle Formulation: The inclusion of Centella Asiatica Extract makes this serum suitable for those with sensitive skin, minimizing the risk of irritation.
ISNTREE Hyper Retinol EX Serum is a skincare powerhouse that combines the age-defying benefits of retinol with soothing ingredients to deliver a comprehensive solution for aging skin. With consistent use and proper incorporation into your skincare routine, you can unlock the secret to a more youthful, radiant complexion. Say goodbye to fine lines, wrinkles, and uneven skin tone – and say hello to the transformative power of ISNTREE Hyper Retinol EX Serum. Your skin will thank you for it.
How to Use:
Cleanse your face thoroughly.
Apply a toner to balance your skin's pH.
Dispense a small amount of the ISNTREE Hyper Retinol EX Serum onto your fingertips.
Gently massage the serum onto your face and neck, avoiding the eye area.
Follow up with your favorite moisturizer to seal in the serum's benefits.
Use it in your evening routine 2-3 times a week initially, and gradually increase the frequency as your skin builds tolerance.
Ingredients:
Water, Butylene Glycol, Glycerin, Niacinamide, Dibutyl Adipate, Caprylic/Capric Triglyceride, Bakuchiol(0.6%), Ammonium Acryloyldimethyltaurate/VP Copolymer, 1,2-Hexanediol, Hydrogenated Lecithin, Betaine, Hydroxyacetophenone, Retinyl Palmitate(0.3%), Sodium Stearoyl Glutamate, Tocopherol, Retinol(0.1%), Allantoin, Panthenol, Polysorbate 20, Adenosine, Cetearyl Alcohol, Disodium EDTA, Stearic Acid, Dipropylene Glycol, Hydroxypropyl Cyclodextrin, Polydextrose, Ceramide NP, Asiaticoside, Madecassic Acid, Asiatic Acid, Ceramide NS, Cholesterol, Phytosphingosine, Ferulic Acid, Ceramide AS, Ceramide AP, Copper Tripeptide-1, Acetyl Hexapeptide-8, Palmitoyl Pentapeptide-4, Palmitoyl Tetrapeptide-7, Palmitoyl Tripeptide-1, Ceramide EOP.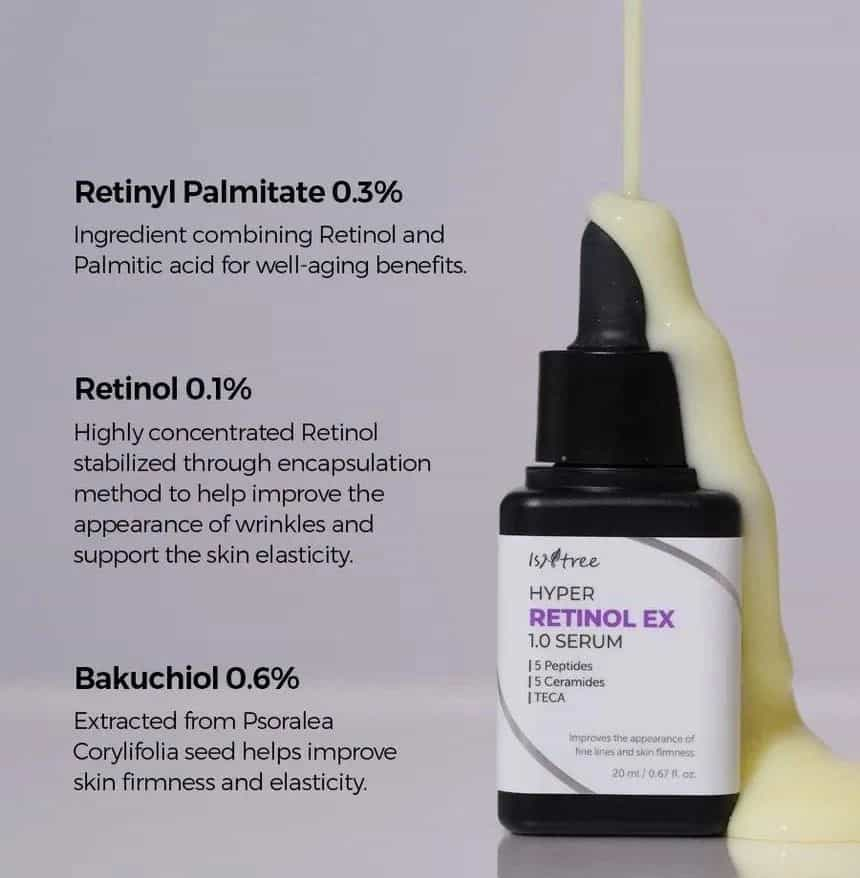 Buy 100% authentic ISNTREE Hyper Retinol EX Serum at Agetune. We provide cash on delivery in all over Bangladesh.