In the realm of skincare, vitamin C reigns supreme as a powerful ingredient known for its ability to transform your complexion. ISNTREE Hyper Vitamin C 23 Serum is creating quite a buzz in the beauty world for its extraordinary potency and skin-brightening effects. In this article, we'll explore the wonders of ISNTREE's Vitamin C serum, from its key ingredients to its remarkable benefits, and how to incorporate it into your daily skincare routine.
The Power of Vitamin C:
Vitamin C, also known as ascorbic acid, is a skincare superhero renowned for its myriad of benefits. From fading dark spots and enhancing collagen production to protecting your skin from free radicals, vitamin C is a must-have for achieving radiant and youthful skin. ISNTREE Hyper Vitamin C 23 Serum harnesses the incredible power of vitamin C for stunning results.
Key Ingredients:
Pure Vitamin C (23%): This high concentration of vitamin C effectively brightens the skin, reducing hyperpigmentation and dark spots.
Hippophae Rhamnoides Water: Derived from sea buckthorn, this ingredient provides additional vitamin C and helps soothe the skin.
Hyaluronic Acid: Keeps your skin hydrated, plump, and youthful.
Centella Asiatica Extract: Known for its soothing properties, it ensures this potent serum is gentle on all skin types.
Benefits of ISNTREE Hyper Vitamin C 23 Serum:
Brighter Complexion: The 23% pure vitamin C in this serum works wonders to brighten your skin, leaving it radiant and luminous.
Fades Dark Spots: Say goodbye to those stubborn dark spots and hyperpigmentation as this serum helps to lighten them over time.
Boosts Collagen: Vitamin C stimulates collagen production, improving skin elasticity and reducing the appearance of fine lines and wrinkles.
Hydrates and Plumps: The addition of hyaluronic acid ensures your skin stays moisturized and looks youthful.
Gentle on Skin: The inclusion of Centella Asiatica Extract makes it suitable for sensitive skin, avoiding irritation.
ISNTREE Hyper Vitamin C 23 Serum is your ticket to achieving a brighter, more youthful, and healthier complexion. With its powerful blend of pure vitamin C, soothing ingredients, and hydration boosters, this serum promises to revolutionize your skincare routine. Bid farewell to dark spots and hello to a radiant glow with ISNTREE's Hyper Vitamin C 23 Serum. Your skin deserves the best, and this serum delivers just that.
How to Use:
Cleanse: Begin with a clean face.
Tone: Apply a gentle toner to balance your skin's pH.
Apply Serum: Dispense a few drops of the ISNTREE Hyper Vitamin C 23 Serum onto your fingertips.
Massage: Gently massage the serum onto your face and neck, avoiding the eye area.
Moisturize: Follow up with your favorite moisturizer to lock in the serum's benefits.
Sunscreen: In the morning, always finish with a broad-spectrum sunscreen to protect your skin from UV damage.
Ingredients:
Water, Ascorbic Acid(23%), Propanediol, Betaine, 1,2-Hexanediol, Polyglycerin-3, Tromethamine, Ethyl Ascorbyl Ether, Hydroxyethyl Urea, Betula Platyphylla Japonica Juice, Ethylhexylglycerin, Adenosine, Disodium EDTA, Panthenol, Gardenia Florida Fruit Extract, Dextrin, Tocopherol.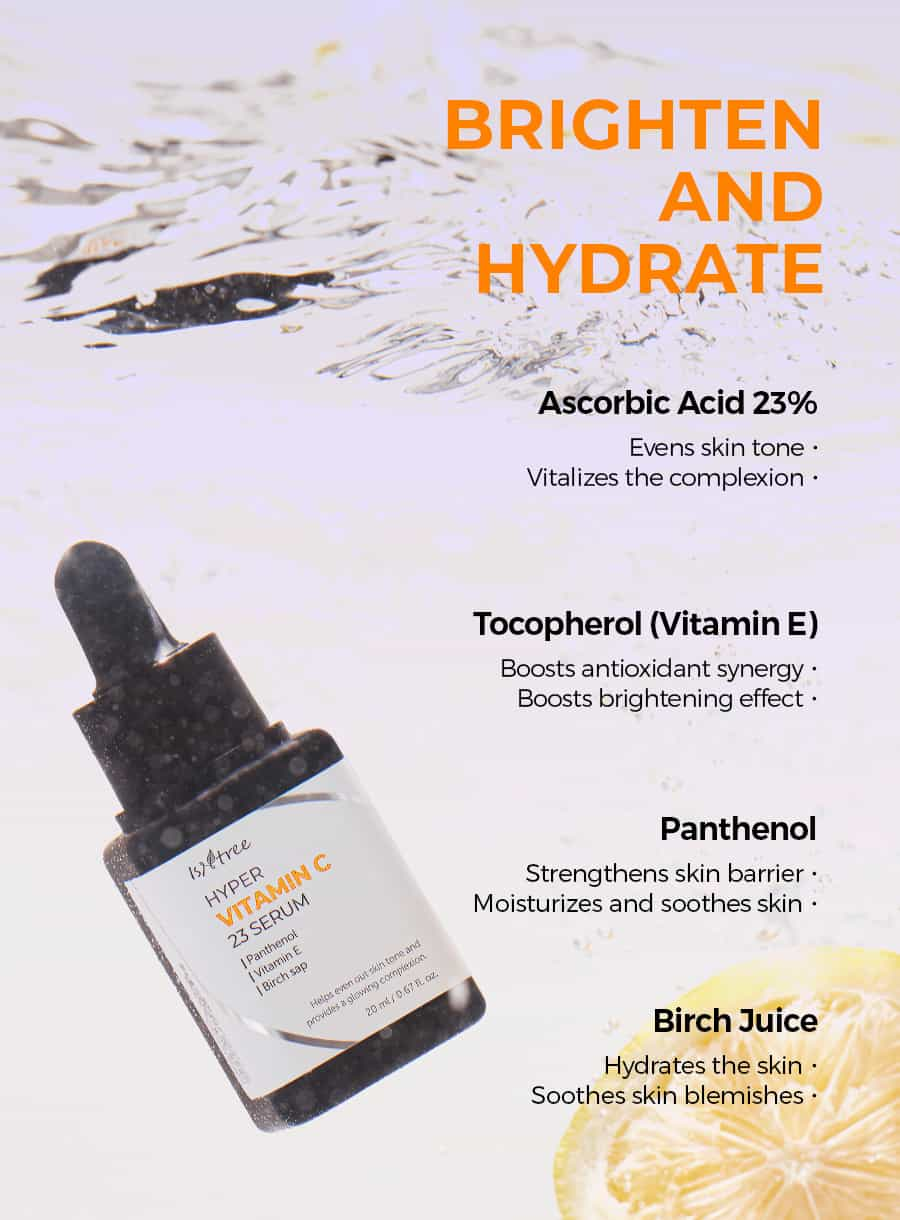 Buy 100% authentic ISNTREE Hyper Vitamin C 23 Serum at Agetune. We provide cash on delivery in all over Bangladesh.