Benefits:
JNH Sseng Eol Whipping Cleansing Foam is a luxurious facial cleansing foam that provides a deep cleaning experience. It is formulated with ingredients such as honey, royal jelly, and propolis, which work together to nourish and hydrate the skin while removing impurities.
Deep Cleansing: The rich lather created by the whipped texture of the foam effectively removes impurities such as dirt, oil, and makeup, leaving your skin feeling clean and refreshed.
Hydrating: The ingredients in Jnh Sseng Eol Whipping Cleansing Foam, such as honey, royal jelly, and propolis, work together to hydrate the skin and provide long-lasting moisture.
Nourishing: The product is enriched with antioxidants and anti-inflammatory ingredients that help to soothe the skin and protect it from environmental stressors.
Gentle and Safe: Jnh Sseng Eol Whipping Cleansing Foam is free of harsh chemicals, making it a great choice for those with sensitive skin.
Aromatherapy Experience: The sweet and subtle honey scent provides a relaxing and rejuvenating experience, helping to invigorate the senses and start the day on a positive note.
Suitable for All Skin Types: This cleansing foam is suitable for all skin types, including sensitive skin, making it a versatile and accessible option for a wide range of users.
How to Use:
Apply every morning and night.
Get your face and hand wet and take about 2~3 cm of cleansing foam into your hand, add some water little by little to work up arch lather, whipping in some air, cleanse gently using entire palms, cupping the face with rich lather.
Rinse of well with lukewarm water.
Ingredients:
Water, Stearic Acid, Glycerin, Myristic Acid, PEG-8, Potassium Hydroxide, Lauryl Betaine, Lauric Acid, PEG-60 Glyceryl Diisostearate, Glyceryl Stearate, Portulaca Oleracea Extract, Cholesteryl/Behenyl/Octyldodecyl Lauryl Glutamate, Tocopheryl Acetate, Sodium Hyaluronate, Polyglutamic Acid, Aloe Barbadensis Leaf Juice Powder, Scutellaria Baicalensis Root Extract, Paeonia Suffruticosa Root Extract, Syringa Vulgaris (Lilac) Leaf Cell Culture Extract, Sophora Angustifolia Root Extract, Zanthoxylum Piperitum Fruit Extract, Dipotassium Glycyrrhizate, Magnesium Aspartate, Zinc Gluconate, Copper Gluconate, Buddleja Davidii Meristem Cell Culture, Allantoin, Polyquaternium-7, Disodium EDTA, Flavor, Butylene Glycol.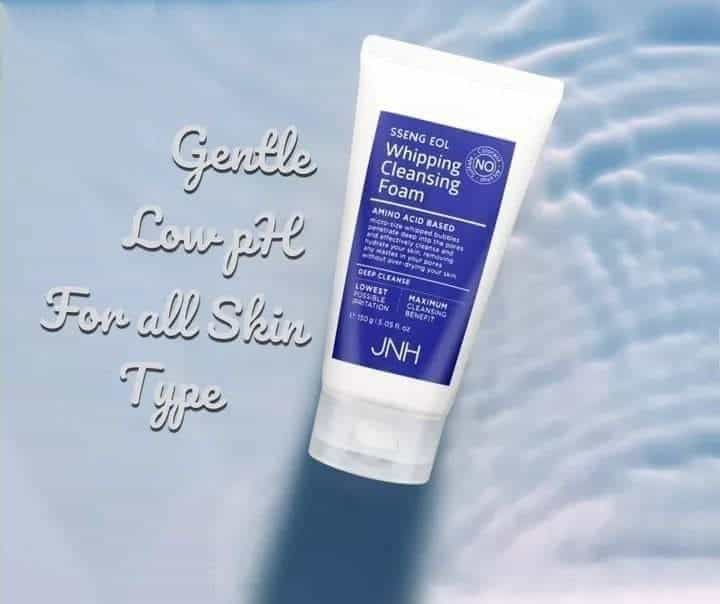 Buy 100% authentic JNH Sseng Eol Whipping Cleansing Foam at Agetune. We provide cash on delivery in all over Bangladesh.