Stay Protected with NEUTROGENA Sport Face Sunscreen
Sun protection is a vital part of any skincare routine, and NEUTROGENA Sport Face Sunscreen is your ideal companion for outdoor activities.
Key Features of NEUTROGENA Sport Face Sunscreen
Broad-Spectrum Protection: This sunscreen offers broad-spectrum protection against both UVA and UVB rays. It helps guard your skin against sunburn and premature aging caused by the sun.
Sweat and Water Resistant: NEUTROGENA Sport Face Sunscreen is designed to be sweat and water-resistant, making it an excellent choice for outdoor activities, sports, and workouts. It stays in place, even during intense physical activities.
Oil-Free and Non-Comedogenic: The oil-free formula ensures that the sunscreen won't clog your pores, making it suitable for all skin types, including those with acne-prone skin.
Fast Absorption: The lightweight formula is fast-absorbing and leaves a non-greasy finish, so you can apply it and go about your activities without feeling weighed down.
Dermatologist-Recommended: NEUTROGENA is a trusted brand often recommended by dermatologists. You can rely on this sunscreen for its effectiveness and compatibility with various skin types.
Gentle on Sensitive Skin: This sunscreen is suitable for sensitive skin and won't cause irritation or breakouts.
NEUTROGENA Sport Face Sunscreen is your go-to solution for sun protection, especially during outdoor activities and sports. With its broad-spectrum protection, sweat and water resistance, oil-free and non-comedogenic formula, this sunscreen provides reliable sun protection while keeping your skin comfortable and free from clogged pores. Prioritize sun safety and healthy skin with NEUTROGENA Sport Face Sunscreen for your outdoor adventures.
How to Use:
Cleanse Your Face: Start with a clean face before applying any product. Use your regular cleanser to remove any dirt or makeup.
Apply Sunscreen: Squeeze a small amount of NEUTROGENA Sport Face Sunscreen onto your fingertips. A dime-sized amount is usually sufficient for your face.
Spread Evenly: Gently spread the sunscreen over your face, taking care to cover all areas, including your nose, cheeks, forehead, and chin. Be sure to reach your hairline and jawline as well.
Reapply as Needed: For extended outdoor activities, it's recommended to reapply the sunscreen every two hours or after swimming, sweating, or wiping your face.
Pair with Other Sun Protection: Remember to use other sun protection measures, such as wearing sunglasses, protective clothing, and seeking shade during peak sun hours.
Use Daily: While NEUTROGENA Sport Face Sunscreen is ideal for outdoor activities, it's also suitable for everyday use to protect your skin from sun damage.
Ingredients:
Water, Butyloctyl Salicylate, Styrene/Acrylates Copolymer, Silica, Dimethicone, Potassium Cetyl Phosphate, Beeswax, Benzyl Alcohol, Caprylyl Methicone, Glyceryl Stearate, Peg-100 Stearate, Glycerin, Cetyl Dimethicone, Caprylyl Glycol, Ethylhexylglycerin, Hydrolyzed Jojoba Esters, Behenyl Alcohol, Acrylates/Dimethicone Copolymer, Xanthan Gum, Chlorphenesin, Dimethicone/Peg-10/15 Crosspolymer, Sodium Polyacrylate, Disodium Edta, Ethylhexyl Stearate, Tocopheryl Acetate, Bisabolol, Bht, Jojoba Esters, Trideceth-6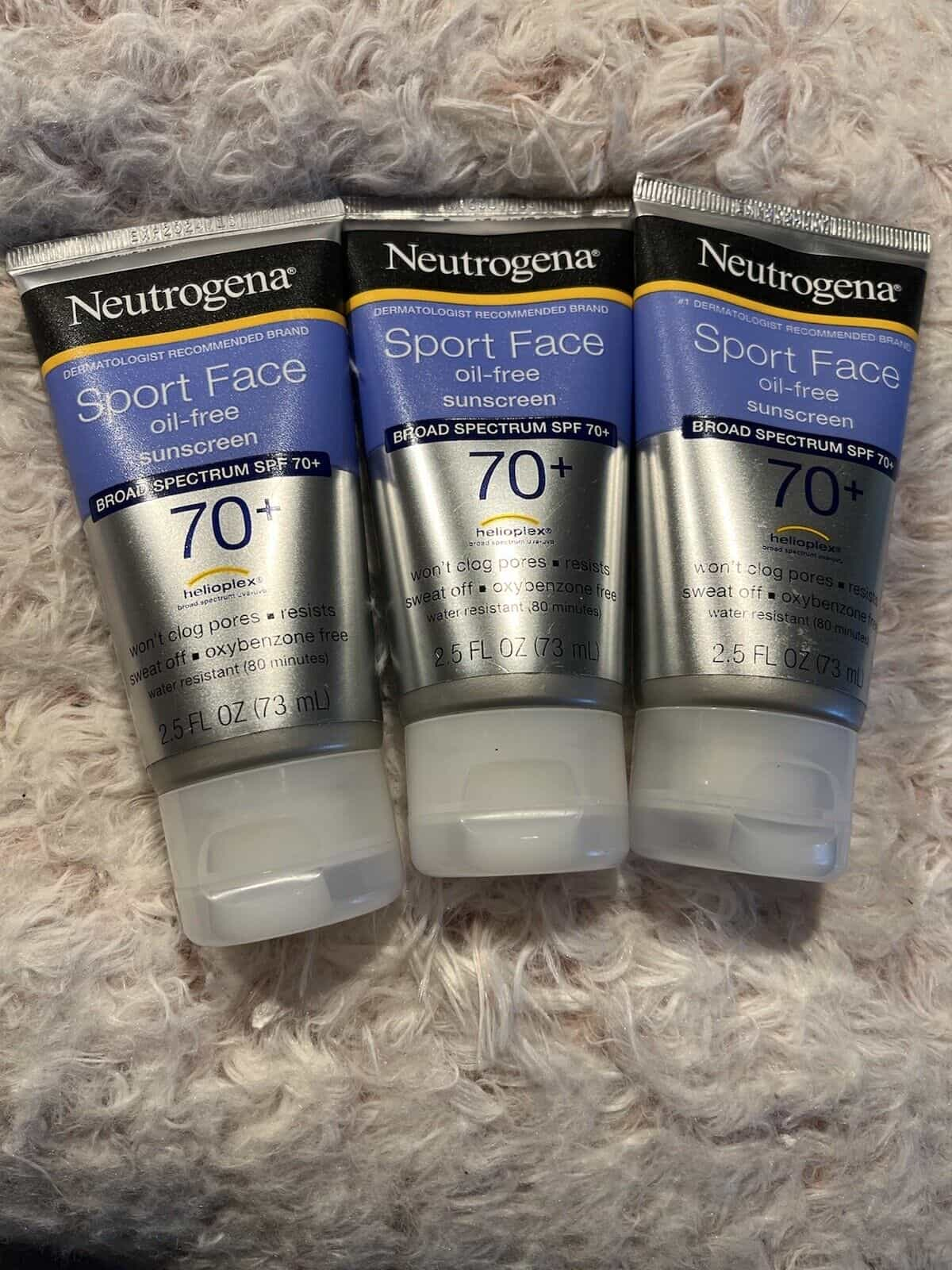 Buy 100% authentic NEUTROGENA Sport Face Sunscreen at Agetune. We provide cash on delivery in all over Bangladesh.