Add a Rosy Glow with the PIGMENT PLAY Blush Brush
In the world of makeup, the right tools can make all the difference in achieving a flawless finish. If you're searching for a high-quality blush brush to help you achieve a natural flush of color, look no further than the PIGMENT PLAY Blush Brush.
What Sets the PIGMENT PLAY Blush Brush Apart?
Professional-Grade Quality: Crafted with professional-grade quality in mind, this blush brush is designed to provide exceptional results, making it a valuable addition to your makeup brush collection.
Optimal Shape and Size: The brush features the ideal shape and size for applying blush. Its tapered design allows for precise placement of color on the apples of your cheeks while blending seamlessly.
Natural-Looking Flush: Achieving a natural, healthy flush of color is effortless with this brush. It evenly distributes blush, creating a soft and flattering effect that enhances your complexion.
Soft and Gentle Bristles: The brush is made with soft, gentle bristles that feel comfortable on your skin. It ensures that the application process is smooth and free from irritation.
Versatile Use: While it's primarily designed for blush application, this brush can also be used for bronzer and highlighter, adding versatility to your makeup routine.
Cruelty-Free and Durable: Beauty should be cruelty-free and long-lasting. PIGMENT PLAY's Blush Brush is both cruelty-free and durable, ensuring it remains a reliable tool in your makeup routine.
The PIGMENT PLAY Blush Brush is your secret to achieving a natural flush of color that enhances your complexion with ease. With its optimal shape, soft bristles, versatile use, and commitment to ethical beauty, this brush empowers you to perfect your blush application and showcase your beauty with confidence. Elevate your makeup game and add a rosy glow to your cheeks with the Blush Brush by PIGMENT PLAY.
How to Use:
Prep Your Skin: Start with your foundation and other base makeup applied. Your blush should be applied over your foundation but before setting powder.
Pick Up Blush: Dip the Blush Brush into your desired blush color. Gently tap off any excess powder to prevent excessive color application.
Smile and Apply: Smile to locate the apples of your cheeks, which are the round, fleshy parts when you smile. Apply the blush to the apples of your cheeks, moving the brush in a gentle circular or sweeping motion.
Blend Outward: After initial application, blend the blush slightly upward and outward toward your temples. This technique ensures a natural gradient and prevents harsh lines.
Layer if Needed: If you prefer a more intense blush, you can layer it by repeating the application process until you achieve your desired level of color.
Set if Desired: To lock in your makeup and give your complexion a polished look, consider using a setting spray.
Admire Your Natural Flush: Step out with confidence, knowing you've achieved a natural, rosy glow with the PIGMENT PLAY Blush Brush.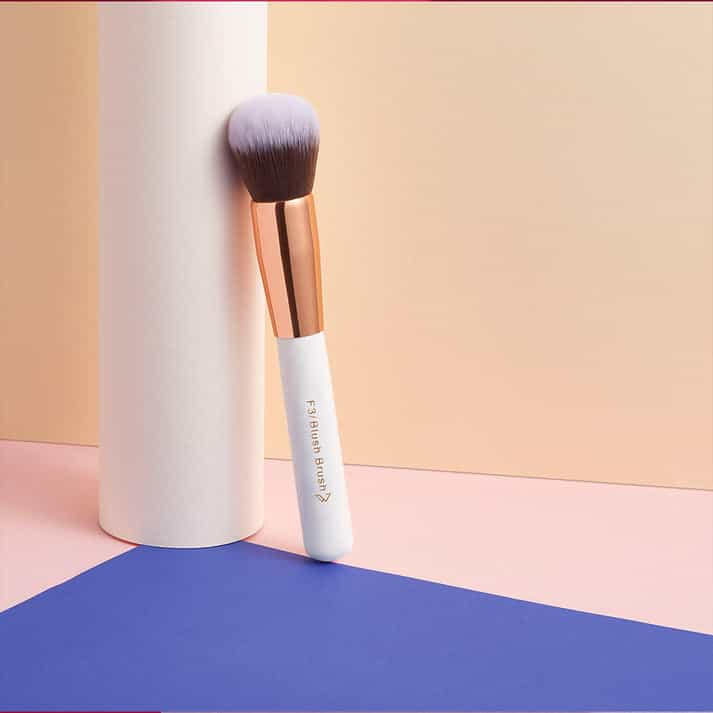 Buy 100% authentic PIGMENT PLAY Blush Brush at Agetune. We provide cash on delivery in all over Bangladesh.