Achieve Flawless Makeup with the PIGMENT PLAY Large Stippling Brush
In the world of makeup, the right tools are essential for achieving a flawless finish. If you're in search of a versatile brush that can help you achieve an airbrushed look, look no further than the PIGMENT PLAY Large Stippling Brush.
What Makes the PIGMENT PLAY Large Stippling Brush Stand Out?
Professional-Grade Quality: This stippling brush is crafted with professional-grade quality in mind. It's designed to provide exceptional results, making it a valuable addition to your makeup brush collection.
Versatile Dual-Fiber Bristles: The brush features dual-fiber bristles, combining both synthetic and natural fibers. The combination allows for versatile use, making it ideal for various makeup products, including liquid, cream, and powder formulas.
Airbrushed Finish: Stippling brushes are known for their ability to create an airbrushed finish. The PIGMENT PLAY Large Stippling Brush excels at blending makeup seamlessly into the skin, leaving you with a flawless, natural-looking complexion.
Buildable Coverage: Whether you prefer a light, natural look or full coverage, this brush can help you achieve your desired level of coverage. It allows for buildable application, so you're in control of your makeup's intensity.
Ergonomic Design: The brush is thoughtfully designed with an ergonomic handle for comfortable and precise application. You can achieve expert-level makeup application with ease.
Cruelty-Free and Durable: Beauty should be cruelty-free and long-lasting. PIGMENT PLAY's Large Stippling Brush is cruelty-free and crafted to withstand daily use, ensuring it remains a reliable tool in your makeup routine.
The PIGMENT PLAY Large Stippling Brush is your secret weapon for achieving a professional, airbrushed finish in your makeup routine. With its versatile dual-fiber bristles, ergonomic design, buildable coverage, and commitment to ethical beauty, this brush empowers you to perfect your makeup application and showcase your beauty with confidence. Elevate your makeup game and achieve flawless results with the Large Stippling Brush by PIGMENT PLAY.
How to Use:
Prep Your Skin: Start with clean, moisturized skin. Apply your preferred skincare products as a base.
Dab or Swirl: Depending on your makeup product, you can either dab it onto your skin or swirl the brush in the product to pick up the desired amount.
Stipple and Blend: Use the stippling brush to gently stipple (dot) the makeup onto your skin. This technique helps distribute the product evenly.
Blend Seamlessly: After stippling, use light, circular motions to blend the makeup into your skin. Continue until you achieve the desired coverage and a flawless finish.
Set if Desired: To lock in your makeup, consider using a setting powder or spray.
Admire Your Flawless Look: Step out with confidence, knowing you've achieved a flawless, airbrushed finish with the help of the PIGMENT PLAY Large Stippling Brush.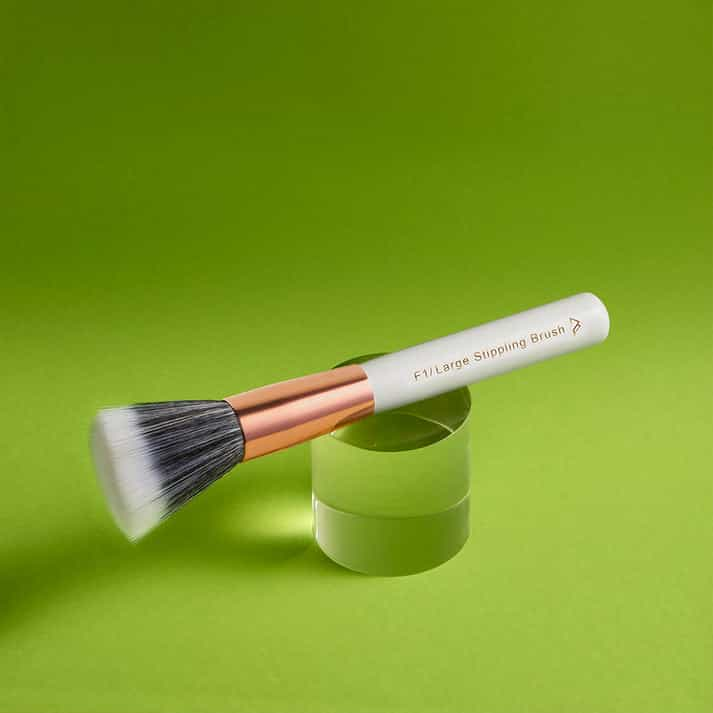 Buy 100% authentic PIGMENT PLAY Large Stippling Brush at Agetune. We provide cash on delivery in all over Bangladesh.