Benefits:
When it comes to achieving bold, dramatic eye looks with precision, the REVOLUTION Gel Eyeliner Pot with Brush is a makeup essential.
Unveiling the Beauty of REVOLUTION Gel Eyeliner Pot With Brush
Drama in a Pot: The REVOLUTION Gel Eyeliner Pot is your secret weapon for creating captivating eye looks. With its gel-based formula, it offers intense pigmentation and long-lasting wear, allowing you to achieve bold and dramatic eyes effortlessly.
Precision with Ease: The included brush is a game-changer when it comes to precision. Its fine bristles allow you to create clean, sharp lines with ease, whether you're going for a classic winged eyeliner or a smudged smoky eye.
Waterproof and Smudge-Resistant: One of the standout features of gel eyeliner is its ability to stay put. Once applied, it's resistant to water and smudging, ensuring that your eye makeup remains flawless throughout the day or night.
Versatile Application: The gel eyeliner can be used in various ways. Create a precise line along your upper lash line for a defined look, smudge it for a smoky effect, or use it as a base for eyeshadow to intensify color vibrancy.
Long-Lasting Brilliance: Gel eyeliner is known for its longevity. You won't have to worry about touch-ups during the day, as this eyeliner stays vibrant and fresh, allowing you to enjoy your look without interruptions.
The REVOLUTION Gel Eyeliner Pot With Brush is your tool for achieving precision and drama in your eye makeup. With its intense pigmentation, waterproof and smudge-resistant qualities, versatile application, and long-lasting brilliance, it's a must-have addition to your beauty collection.
Elevate your eye game with REVOLUTION Gel Eyeliner and experience the joy of eye makeup that combines precision and drama effortlessly. Say goodbye to smudged eyeliner and hello to a world of bold elegance with REVOLUTION – where beauty meets precision.
How to Use:
Prepare Your Canvas: Start with clean, dry eyelids. Ensure that your skin is free from any oil or makeup residue for the best application.
Dip and Glide: Dip the included brush into the gel eyeliner pot. You only need a small amount for each eye. Start at the inner corner of your upper lash line and glide the brush along your lashes, following your natural eye shape.
Wing it Out (Optional): If you're going for a winged eyeliner look, use the brush to create a wing at the outer corner of your eye. You can make it as subtle or bold as you desire.
Smudge or Blend (Optional): To create a smudged or smoky effect, use a smudging brush or your fingertip to gently blend and soften the line. This technique adds depth and intensity to your eye makeup.
Set with Eyeshadow (Optional): If you want your eyeliner to last even longer, you can set it with a matching eyeshadow using a fine brush. This helps lock the color in place.
Ingredients:
Isododecane,Cyclopentasiloxane, Trimethylsiloxysilicate, Isobutylmethacrylate/Bis-hydroxypropyl Dimethicone Acrylate Copolymer, Hydrogenated Microcrystalline Wax, Polyethylene, Isohexadecane, Tocopheryl Acetate, Phenoxyethanol. [+/- MAY CONTAIN (PEUT CONTENIR): CI 77499 (Iron OxidesCI 77266 (Black 2)].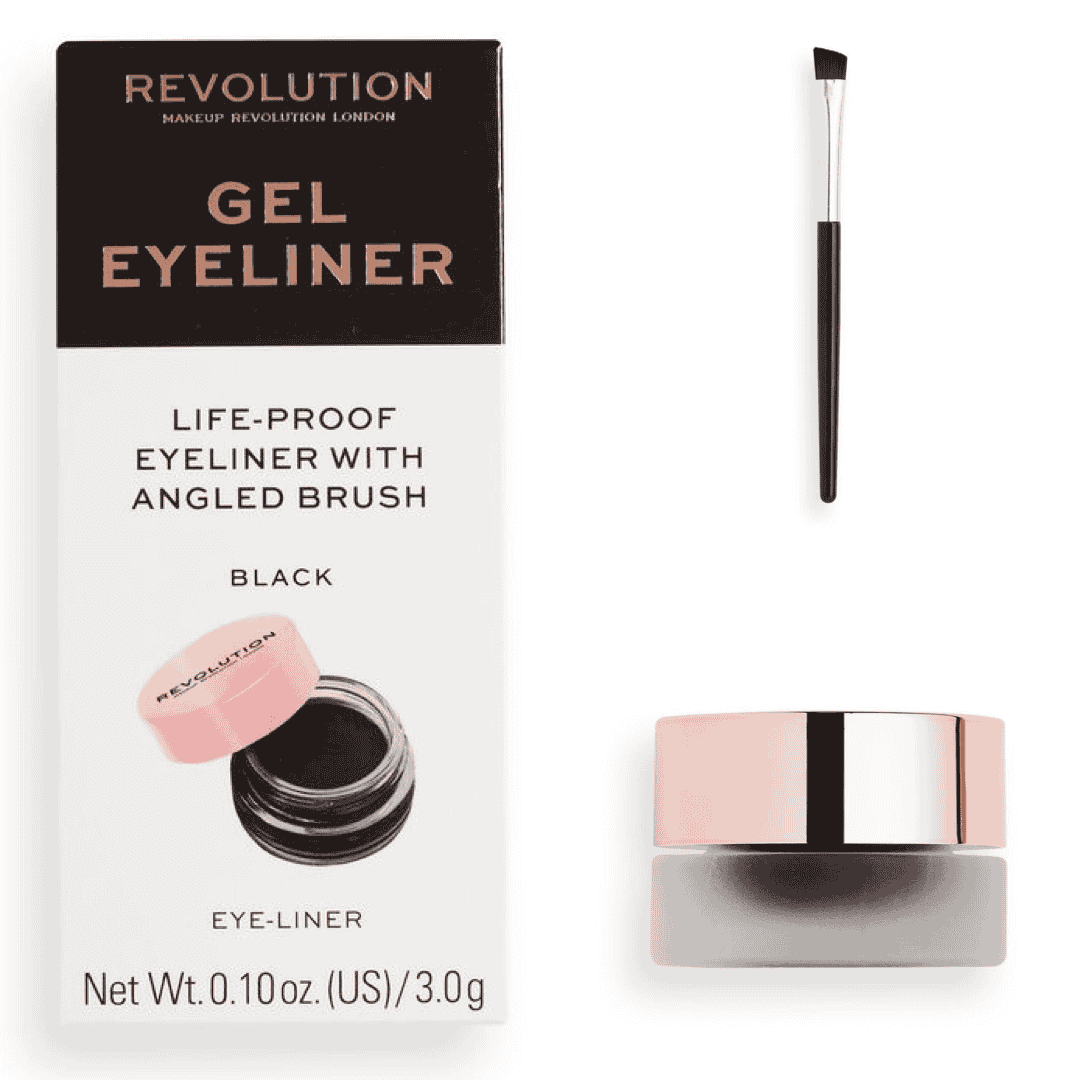 Buy 100% authentic REVOLUTION Gel Eyeliner Pot With Brush at Agetune. We provide cash on delivery in all over Bangladesh.