Benefits:
Are visible pores and uneven skin texture affecting your confidence? Say hello to smooth and flawless skin with the REVOLUTION Pore Blur Primer.
Discover the Magic of REVOLUTION Pore Blur Primer
Pore Minimization: The REVOLUTION Pore Blur Primer is your secret to minimizing the appearance of pores and fine lines. Its innovative formula blurs imperfections, leaving your skin looking smooth and flawless.
Smooth Canvas: This primer creates a velvety and smooth canvas for your makeup application. It fills in uneven texture and creates a barrier that ensures your makeup stays put throughout the day.
Long-Lasting Makeup: Formulated for long-lasting wear, the Pore Blur Primer not only minimizes the look of pores but also ensures that your makeup remains fresh, even in challenging weather conditions.
Weightless Comfort: The lightweight and non-greasy formula ensure that your skin remains comfortable all day long. It won't clog your pores or leave your skin feeling heavy.
Versatile Usage: The Pore Blur Primer is versatile and can be used in various ways. Apply it as a makeup primer, use it to touch up during the day, or even wear it on its own for a smooth, natural look.
The REVOLUTION Pore Blur Primer is your key to achieving a refined and flawless complexion effortlessly. Whether you have a busy day ahead or want your makeup to look its best for a special occasion, this primer is your trusted companion. It's a must-have addition to your beauty collection, offering pore minimization, texture refinement, and all-day comfort.
Unlock the joy of makeup that empowers you to look and feel your best with the REVOLUTION Pore Blur Primer. Say goodbye to visible pores and hello to a world of smooth and flawless confidence with REVOLUTION – where beauty meets perfection.
How to Use:
Cleanse and Moisturize: Start with clean, moisturized skin to create a smooth base for your makeup.
Apply the Primer: Dispense a small amount of the Pore Blur Primer onto your fingertips and gently apply it to your face, focusing on areas with visible pores or uneven texture.
Blend Thoroughly: Use your fingertips to blend the primer evenly across your face, ensuring it covers all areas that need pore minimization or texture refinement.
Allow to Set: Let the primer set for a minute or two before proceeding with your makeup routine. This allows it to create a smooth and velvety base for your makeup.
Apply Makeup: Continue with your usual makeup application, confident in the knowledge that your skin looks refined and flawless.
Ingredients:
Dimethicone, Dimethicone/Ninyl Dimethicone Crosspolymer, Sllca, Phenoxyeti-Ianol, Tocopheryl Acetate, Titanium Dioxide (Cl 77891), Iron Oxides(C177491 77492 77499).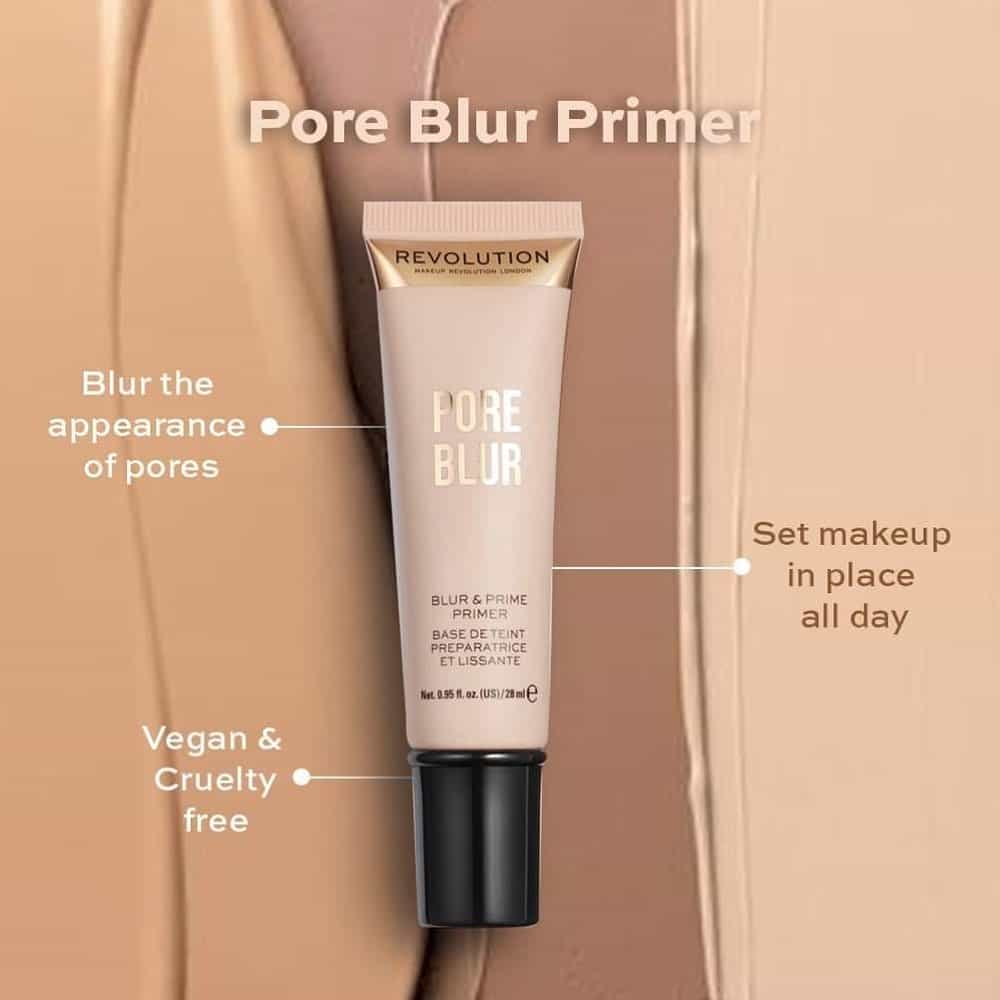 Buy 100% authentic REVOLUTION Pore Blur Primer at Agetune. We provide cash on delivery in all over Bangladesh.