Benefits:
Experience the power of a matte complexion with the REVOLUTION Super Matte Primer.
Discover the Magic of REVOLUTION Super Matte Primer
Matte Perfection: The REVOLUTION Super Matte Primer is designed to give you the ultimate matte finish. It works by controlling excess oil production, ensuring your skin stays shine-free and matte throughout the day.
Pore Refinement: If you struggle with enlarged pores, this primer is your solution. It minimizes the appearance of pores, creating a smooth and flawless canvas for your makeup.
Long-Lasting Makeup: Formulated for long-lasting wear, the Super Matte Primer not only keeps your makeup in place but also prevents it from smudging, fading, or creasing.
Weightless Comfort: The lightweight formula of this primer ensures that your skin remains comfortable all day long. It won't leave your skin feeling heavy or greasy, making it suitable for all skin types.
Versatile Usage: The Super Matte Primer is versatile and can be used with various makeup products. It acts as the perfect base for foundation, ensuring a matte finish, and can also be used under or over makeup to control shine.
The REVOLUTION Super Matte Primer is your secret to achieving a matte and flawless complexion with ease. Whether you have a busy day ahead or want your makeup to look its best for a special occasion, this primer is your trusted ally. It's a must-have addition to your beauty collection, offering matte perfection, pore minimization, and long-lasting wear.
Embrace the joy of makeup that empowers you to look and feel your best with the REVOLUTION Super Matte Primer. Say goodbye to unwanted shine and hello to a world of matte and flawless confidence with REVOLUTION – where beauty meets perfection.
How to Use:
Cleanse and Moisturize: Start with clean, moisturized skin to create a smooth canvas for your makeup.
Apply the Primer: Dispense a small amount of the Super Matte Primer onto your fingertips and gently apply it to your face, focusing on areas prone to excess shine, such as the T-zone.
Blend Thoroughly: Use your fingertips to blend the primer evenly across your face, ensuring that it covers all areas. Pay extra attention to places with enlarged pores or visible imperfections.
Allow to Set: Let the primer set for a minute or two before proceeding with your makeup routine. This allows it to create a matte base for your makeup.
Apply Makeup: Continue with your usual makeup application, confident in the knowledge that your skin will remain shine-free and your makeup will stay fresh throughout the day.
Ingredients:
Aqua (Water, Eau), Butylene Glycol, Peg-40 Hydrogenated Castor Oil, Sodium Polyacrylate Starch, Niacinamide, Phenoxyethanol, Ethylhexylglycerin, Parfum (Fragrance).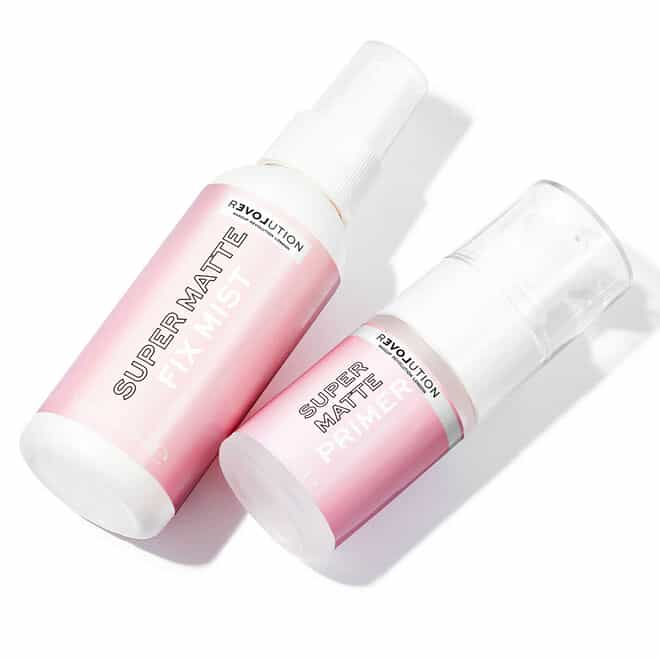 Buy 100% authentic REVOLUTION Super Matte Primer at Agetune. We provide cash on delivery in all over Bangladesh.