Benefits:
A flawless complexion is the foundation of any stunning makeup look. If you're searching for a compact powder that not only provides a beautiful finish but also cares for your skin, then look no further than JCAT Indense Mineral Compact Powder. In this SEO-friendly guide, we'll explore the world of compact powders, dive into the features and benefits of JCAT's Indense Mineral Compact Powder, and share tips on how to achieve a radiant, long-lasting complexion that steals the spotlight.
The Importance of Compact Powder
Before we dive into the specifics of JCAT's Indense Mineral Compact Powder, let's understand why compact powder is an essential step in your makeup routine. Compact powder helps to set your foundation, control shine, and blur imperfections, resulting in a smooth and flawless finish. It's a versatile product that can be used alone for a natural look or to touch up throughout the day.
JCAT Indense Mineral Compact Powder: Your Beauty Essential
JCAT's Indense Mineral Compact Powder is more than just makeup; it's a skin-loving, beauty-enhancing powerhouse. Here's why it stands out:
Mineral-Infused Formula: This compact powder is enriched with minerals that are gentle on the skin. It helps to nourish and protect your complexion while delivering a flawless finish.
Buildable Coverage: Whether you prefer a sheer, natural look or desire fuller coverage, this powder can be layered to achieve your desired level of coverage without feeling heavy.
Oil-Control: The lightweight formula effectively controls excess oil, helping to keep shine at bay throughout the day. Say goodbye to midday touch-ups.
Flawless Finish: Indense Mineral Compact Powder blurs imperfections, minimizes the appearance of pores, and leaves your skin with a soft, matte finish.
Versatile Shades: JCAT offers a variety of shades to match different skin tones, ensuring you find the perfect match for your complexion.
Cruelty-Free: JCAT is committed to cruelty-free beauty, so you can enjoy this product with a clear conscience.
How to Use:
Begin with a clean and moisturized face. You can apply your foundation or concealer as your first step.
Using a makeup brush or the included applicator sponge, gently pat or sweep the compact powder onto your skin. Start from the center of your face and blend outward.
Focus on areas where you tend to get oily or where you want to minimize shine.
You can use the compact powder alone for a natural look or to set your foundation and concealer for added coverage and staying power.
Carry the compact with you for quick touch-ups throughout the day.
Ingredients: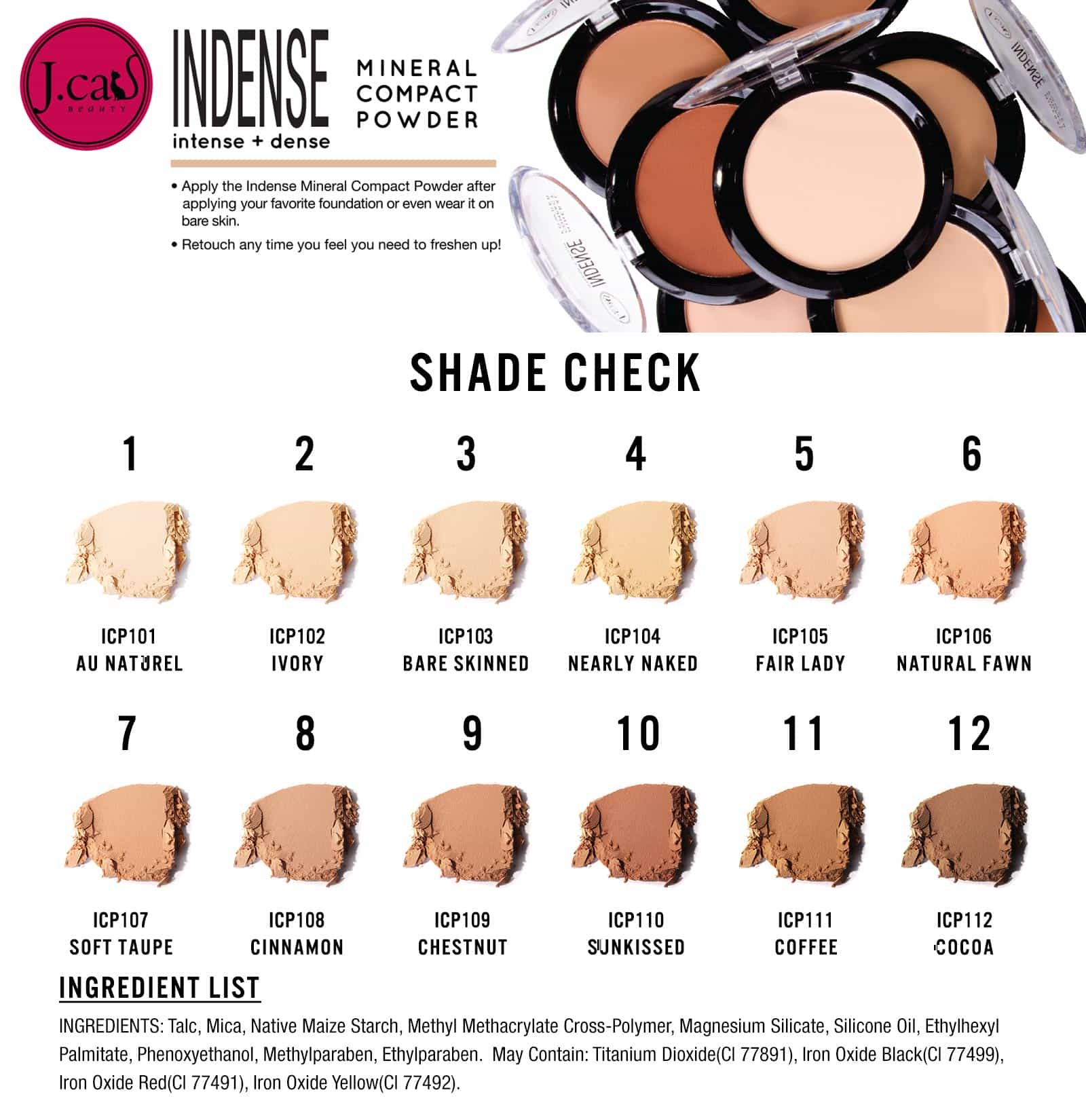 Buy 100% authentic JCAT Indense Mineral Compact Powder at Agetune. We provide cash on delivery in all over Bangladesh.