Benefits:
Achieving beautiful, healthy skin begins with proper cleansing. If you're on the quest for a skincare product that not only effectively cleanses your skin but also maintains its natural pH balance, then look no further than the JCAT Skincare Ph Balancing Gel Foaming Kleanser.
The Significance of pH-Balanced Cleansing
Before we explore the specifics of JCAT Skincare Ph Balancing Gel Foaming Kleanser, let's understand why pH-balanced cleansing is crucial for maintaining healthy skin. The skin's natural pH balance is slightly acidic, typically around pH 5.5. Using skincare products that disrupt this balance can lead to issues such as dryness, sensitivity, and breakouts. A pH-balanced cleanser helps maintain the skin's protective barrier while effectively removing impurities.
JCAT Skincare pH Balancing Gel Foaming Cleanser: Your Skin's Best Friend
JCAT's pH Balancing Gel Foaming Cleanser is more than just a cleanser; it's a skincare essential that cares for your skin's health and beauty. Here's what makes it stand out:
Gentle Cleansing: This foaming cleanser effectively removes makeup, dirt, and impurities without stripping your skin of its natural moisture. It leaves your skin clean, fresh, and balanced.
pH-Balanced: Formulated with the skin's natural pH in mind, this cleanser helps maintain your skin's delicate acid mantle, reducing the risk of irritation and imbalances.
Refreshing Gel Texture: The lightweight gel texture transforms into a luxurious foam when mixed with water, making it a delight to use.
Natural Ingredients: JCAT's formula includes natural ingredients known for their skincare benefits, ensuring a gentle and nourishing cleanse.
Suitable for All Skin Types: Whether you have sensitive, oily, dry, or combination skin, this cleanser is suitable for all skin types.
Cruelty-Free: JCAT is committed to cruelty-free skincare, so you can use this product with peace of mind.
How to Use:
Begin by wetting your face with lukewarm water.
Squeeze a small amount of the cleanser onto your fingertips or a cleansing brush.
Gently massage the cleanser onto your face using circular motions, paying attention to areas with makeup or impurities.
Add more water to create a foamy lather and continue massaging for about a minute.
Rinse thoroughly with lukewarm water, ensuring all cleanser is removed from your skin.
Pat your face dry with a clean, soft towel.
Follow with your regular skincare routine, including moisturizer and sunscreen.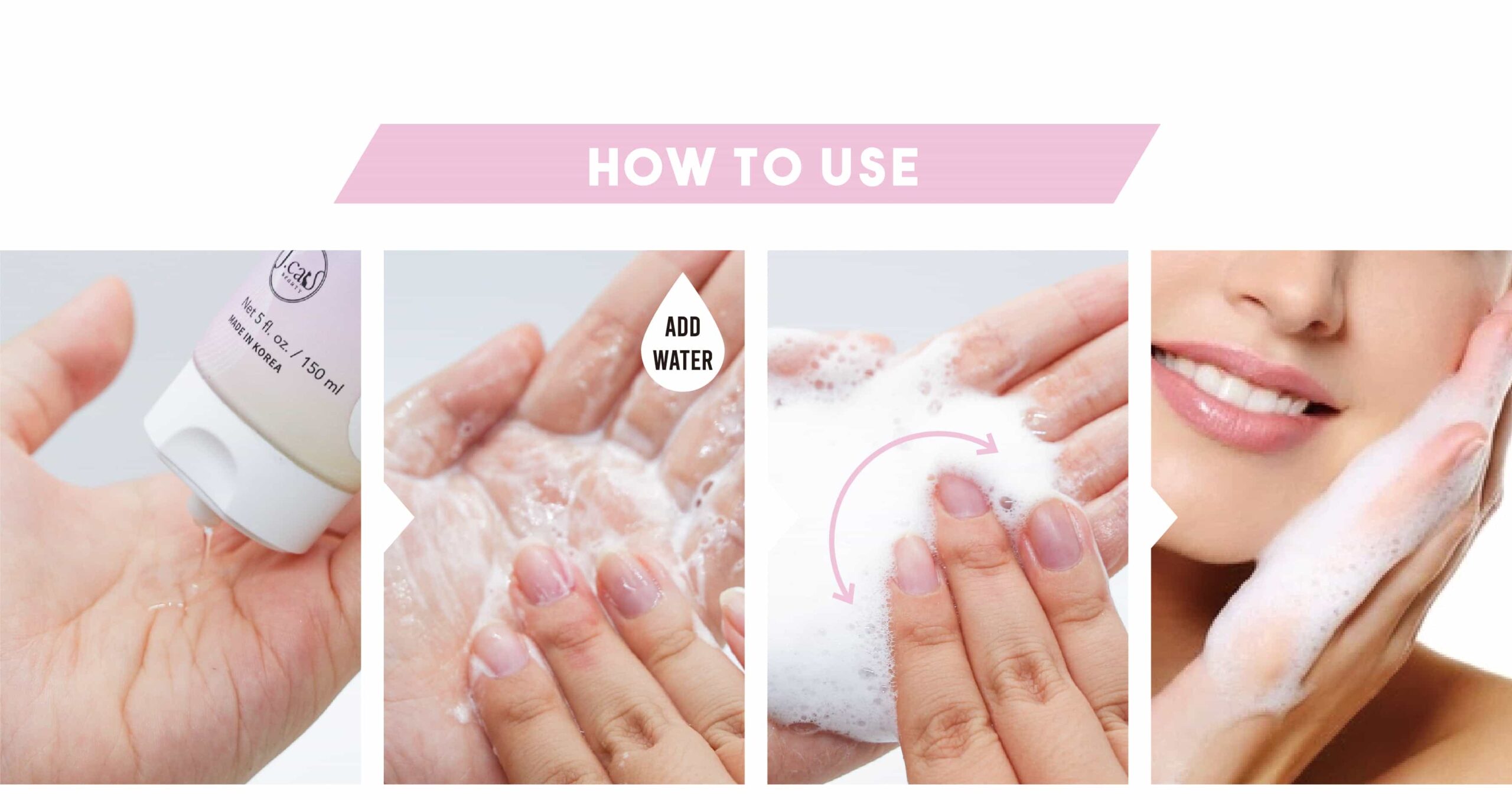 Ingredients:
Water, Cocamidopropyl Betaine, Sodium Cocoyl Isethionate, Disodium Cocoamphodiacetate, Sodium Chloride, Glycerin, Dipropylene Glycol, Butylene Glycol, Prunus Serrulata Flower Extract, Illicium Verum (Anise) Fruit Extract, Centella Asiatica Leaf Extract, Madecassoside, Asiaticoside, Madecassic Acid, Asiatic Acid, Citric Acid, Phenoxyethanol, Sodium Benzoate, Caprylyl Glycol, 1,2-hexanediol, Ethylhexylglycerin, Allantoin, Disodium Edta, Fragrance.