Benefits:
MIGUHARA Daily Herb Sun Stick formulated with natural herb-derived ingredients that soothes the skin.
Sun Protection: The Miguhara Daily Herb Sun Stick is formulated with SPF 50+ PA++++, offering high-level protection against both UVA and UVB rays. This helps to shield your skin from the harmful effects of the sun, such as sunburn, premature aging, and the risk of skin cancer.
Stick Format: The sunscreen comes in a stick form, which makes it convenient to use and carry with you. The stick packaging allows for easy and precise application, enabling you to apply the sunscreen evenly onto your skin without any mess or greasiness.
Herbal Extracts: The sun stick contains a blend of herbal extracts that provide additional skincare benefits. These extracts can help soothe and nourish the skin, contributing to its overall health and appearance. However, the specific herbal extracts used may vary depending on the product formulation.
Lightweight and Non-Greasy: The Miguhara Daily Herb Sun Stick is designed to have a lightweight and non-greasy texture. This makes it suitable for all skin types, including oily or combination skin, as it won't feel heavy or clog your pores.
Portable and Travel-Friendly: The compact size and stick format of the product make it ideal for on-the-go use. You can easily slip it into your bag or pocket, allowing you to reapply sun protection whenever needed, especially during outdoor activities.
How to Use:
Ensure your skin is clean and dry: Before applying any skincare product, make sure your skin is clean and dry. This allows for better absorption and effectiveness of the sunscreen.
Twist up the product: Twist the bottom of the sun stick to expose a small portion of the product. Start with a small amount and twist up more as needed.
Apply to the skin: Gently glide the sun stick directly onto the areas of your skin that will be exposed to the sun. It's recommended to focus on areas such as the face, neck, arms, and any other exposed areas. Apply the product evenly and make sure to cover all the desired areas.
Blend and spread: After applying the sun stick, use your fingers to gently blend and spread the product across your skin. This helps ensure even coverage and helps the sunscreen absorb into the skin.
Reapply as needed: Sunscreen should be reapplied every two hours, or more frequently if you are swimming, sweating, or towel-drying your skin. The stick format makes it easy to reapply the sunscreen without the need for additional tools or getting your hands messy.
Follow with makeup or other skincare products: If desired, you can follow up with your regular makeup routine or other skincare products after the sunscreen has been applied and absorbed into the skin.
Remember, it's important to follow the specific instructions provided by the manufacturer on the product's packaging. These instructions may vary slightly depending on the particular sunscreen product. Additionally, it's always a good idea to consult with a dermatologist or skincare professional for personalized advice on how to use sunscreen and other skincare products effectively.
Ingredients:
Caprylic/Capric/Succinic Triglyceride, Vinyl Dimethicone/Methicone Silsesquioxane Crosspolymer, Synthetic Wax, Octocrylene, Silica, Ethylhexyl Methoxycinnamate, C12-15 Alkyl Benzoate, Diethylamino Hydroxybenzoyl Hexyl Benzoate, Ethylhexyl Salicylate, Diethylhexyl Carbonate, Phenyl Trimethicone, Polyisobutene, Bis-Ethylhexyloxyphenol Methoxyphenyl Triazine, Microcrystalline Wax, 1,2-Hexanediol, Sorbitan Sesquioleate, Caprylic/Capric Glycerides, Fragrance, Cetyl Alcohol, Anthemis Nobilis Flower Water (98ppb), Butylene Glycol, Water, Lavandula Angustifolia Flower Extract (12.5ppb), Melissa Officinalis Leaf Extract (12.5ppb), Rosmarinus Officinalis Leaf Extract (12.5ppb), Origanum Majorana Leaf Extract (12.5ppb), Chamomilla Recutita Flower Extract (12.5ppb), Salvia Officinalis (Sage) Leaf Extract (12.5ppb), Thymus Vulgaris (Thyme) Leaf Extract (12.5ppb), Niacinamide, Calluna Vulgaris Extract, Potentilla Anserina Extract, Silybum Marianum Extract, Ethylhexylglycerin.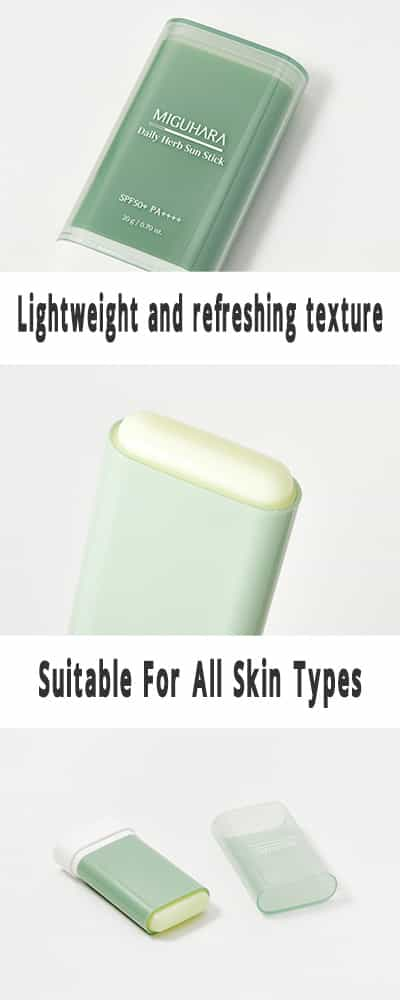 Buy 100% authentic MIGUHARA Daily Herb Sun Stick at Agetune. We provide cash on delivery in all over Bangladesh.