Benefits:
COS DE BAHA Lactic Acid Serum offers gentle exfoliation to help brighten and smooth skin. It contains aloe vera and green tea extracts to provide soothing and antioxidant effects. Vegan-friendly formula is made free of paraben, sulfate, artificial fragrance and artificial colorant.
A serum that provides mild exfoliation for healthier skin.
Provides daily exfoliation formulation to help breakout scars.
Lactic acid brightens, smooths, and evens skin, while also making it look firmer.
It helps reduce the appearance of fine lines, wrinkles, and dark spots.
Lactic acid is a hydrating alpha hydroxy acid (AHA) commonly derived from milk, but there are alternative vegan sources, like fermented corn starch, beets, and other sugar-rich foods.
Do not use it on days you use retinol since both are potent ingredients. Alternate between the two to avoid irritation.
Free of 7 harmful ingredients and not tested on animals.
How to Use:
Cleanse your face: Start with a gentle cleanser to remove any dirt, oil, or makeup from your skin. Pat your skin dry with a clean towel.
Patch test: Before applying the lactic acid product all over your face, perform a patch test. Apply a small amount of the product on a discreet area of your skin, such as behind your ear or on your inner forearm. Wait for 24 hours to check for any adverse reactions like redness, itching, or irritation. If there are no negative reactions, you can proceed with the product.
Application: Depending on the formulation of the product, apply a small amount of the lactic acid in a pointed format directly onto specific areas or spots you want to target. Alternatively, if it's a more diluted formulation, you can apply a thin layer over your entire face.
Massage and absorption: Gently massage the lactic acid into your skin using circular motions, focusing on the targeted areas. Allow the product to absorb into the skin. Avoid the eye area and any broken or irritated skin.
Follow with moisturizer: After the lactic acid has absorbed, apply a moisturizer to hydrate and nourish the skin. This helps to replenish any moisture lost during the exfoliation process.
Sun protection: Since lactic acid can increase skin sensitivity to the sun, it's essential to apply a broad-spectrum sunscreen with SPF 30 or higher during the day. This helps to protect your skin from harmful UV rays and prevent further damage.
Always read and follow the instructions provided with the specific product you're using, as the recommended usage may vary based on its concentration, pH level, and formulation. It's also a good idea to consult with a dermatologist or skincare professional for personalized advice based on your skin type and concerns.
Ingredients:
Aloe Barbadensis Leaf Extract, Lactic Acid, Propanediol, Sodium Citrate, 1,2-Hexa nediol, Arginine, Hydroxyethylcellulose,Camellia Sinensis Leaf Extract, Sambucus Nigra Flower Extract, Momordica Charantia Fruit Extract, Leontopodium Alpinum Extract. Mark: N.O.I.P 75%.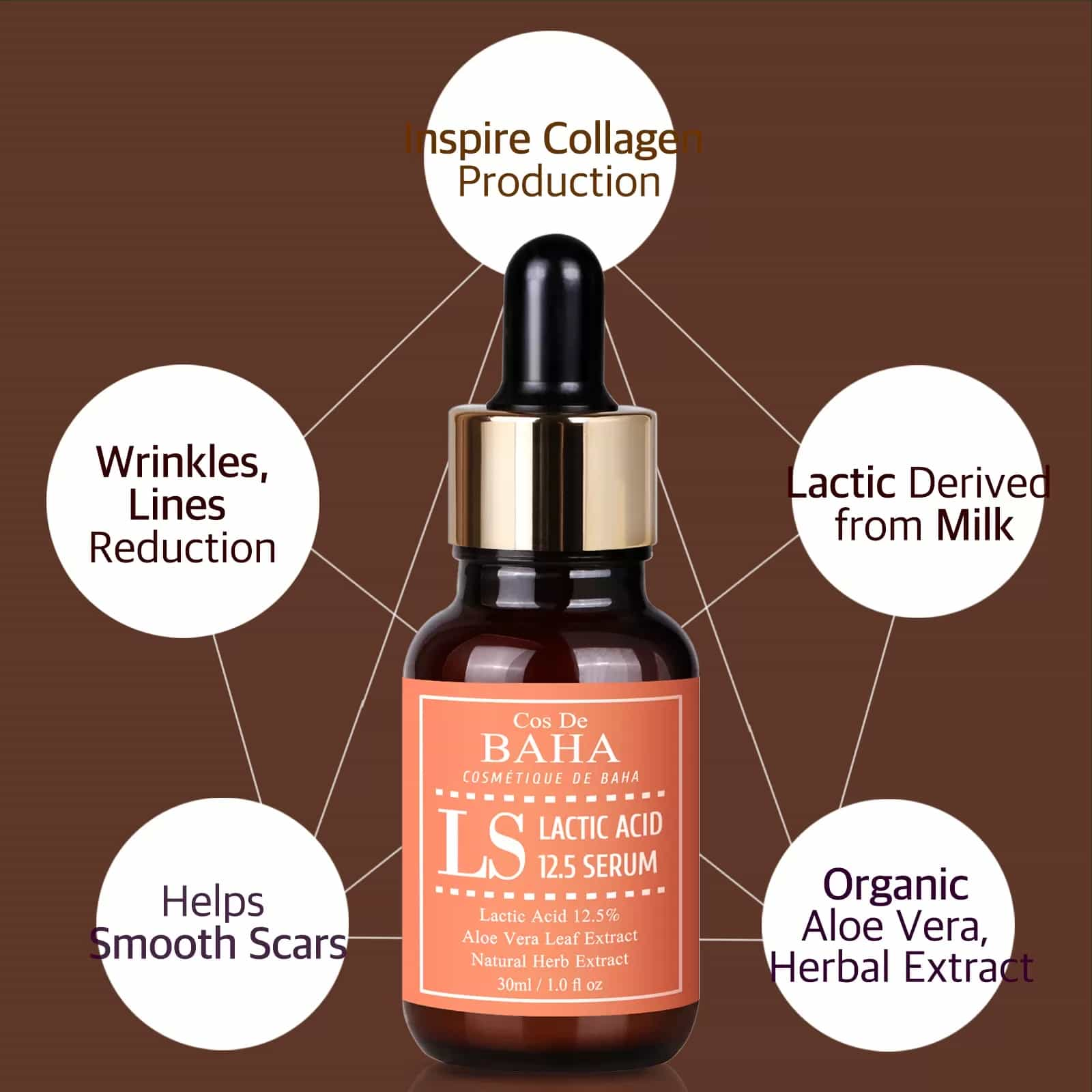 Buy 100% authentic COS DE BAHA Lactic Acid 12.5 Serum (LS) at Agetune. We provide cash on delivery in all over Bangladesh.