Benefits:
Experience the power of bold, matte lips with REVOLUTION Matte Lipstick.
Discover the Magic of REVOLUTION Matte Lipstick
Matte Excellence: The REVOLUTION Matte Lipstick is your ultimate tool for achieving a bold matte finish. Its rich, velvety texture glides on smoothly, delivering intense color with a matte effect that's perfect for any occasion.
Long-Lasting Impact: Formulated for long-lasting wear, this lipstick ensures that your lips stay vibrant and captivating throughout the day or night. Say goodbye to constant touch-ups.
Variety of Shades: REVOLUTION offers an extensive range of shades, from classic nudes to bold reds and striking purples. There's a shade for every mood, outfit, or event.
Hydration and Comfort: Despite its matte finish, this lipstick keeps your lips comfortable and moisturized. It's enriched with nourishing ingredients that prevent your lips from feeling dry or chapped.
Versatile Application: The Matte Lipstick is versatile and can be used to create various lip looks. Whether you want a subtle everyday lip or a dramatic statement lip, this lipstick can do it all.
The REVOLUTION Matte Lipstick is your key to unleashing bold elegance and expressing your personality through your lips. Whether you have a busy day ahead, a special occasion, or simply want to make a statement, this lipstick is your trusted ally. It's a must-have addition to your beauty collection, offering matte excellence, long-lasting impact, and endless versatility.
Embrace the joy of bold, matte lips that empower you to look and feel your best with REVOLUTION Matte Lipstick. Say goodbye to dull lips and hello to a world of bold elegance and self-expression with REVOLUTION – where beauty meets confidence.
Shop Nudes;
Attraction
Ballerina
Bouquet
Chauffeur
Cherry
Cupcake
Cutie
Decadence
Destiny
Dollhouse
Excess
Featured
Fling
Glorifi1ed
Gone Rogue
Head-turner
Heart race
Icon
Knockout
Misbehaving
Muse
Piece of Cake
Plum
Poise
Shop Colour Pops;
Raw
RBF
Rosé
Rouge
Ruby
Sugar Coated
TGIF
Vampire
Violet
Vixen
Vow
White Wedding
How to Use:
Prep Your Lips: Start with clean, dry lips for the best results. Exfoliate your lips beforehand if needed to ensure a smooth canvas.
Lip Liner (Optional): For precise application and to prevent feathering, you can use a lip liner that matches the lipstick shade.
Apply the Lipstick: Glide the Matte Lipstick directly onto your lips, starting from the center and moving outward. For extra precision, you can use a lip brush.
Blot and Reapply (Optional): If you want a more intense color payoff or longer wear, you can blot your lips with a tissue and reapply another layer of lipstick.
Perfect Your Lip Look: To ensure a flawless finish, you can use a lip brush or a cotton swab to clean up any edges and create a polished look.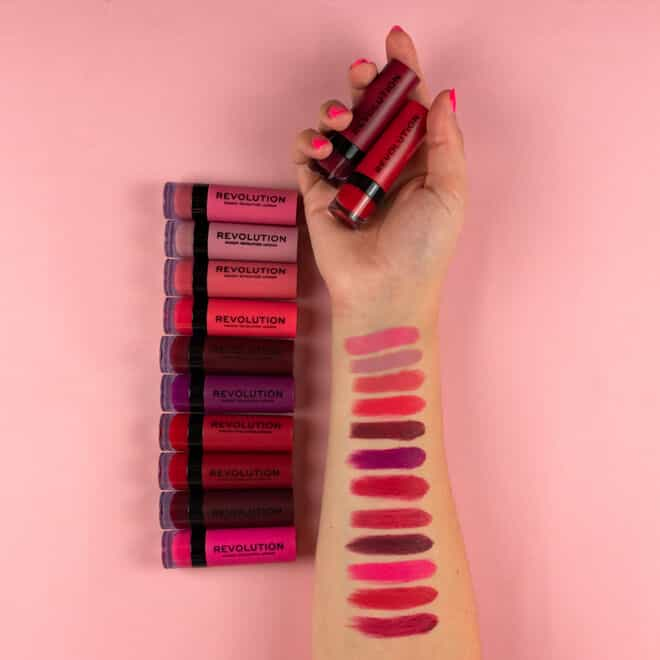 Buy 100% authentic REVOLUTION Matte Lipstick at Agetune. We provide cash on delivery in all over Bangladesh.