Benefits:
Treat your lips to a luxurious and sweet experience with REVOLUTION Sugar Kiss Lip Scrub.
Discover the Magic of REVOLUTION Sugar Kiss Lip Scrub
Exfoliation Bliss: The REVOLUTION Sugar Kiss Lip Scrub is your go-to solution for achieving irresistibly soft lips. It's enriched with sugar crystals that gently exfoliate away dry, flaky skin, leaving your lips feeling incredibly smooth.
Deep Hydration: This lip scrub doesn't just exfoliate; it also nourishes. It's formulated with moisturizing ingredients that penetrate deeply to hydrate and rejuvenate your lips, ensuring they stay soft and supple.
Deliciously Sweet: Sugar Kiss doesn't just sound sweet; it is sweet! The sugary formula, combined with a delightful flavor, makes lip care a truly indulgent experience.
Prepares Lips for Color: If you love wearing lip color, this scrub is your ally. It preps your lips by creating a smooth canvas, allowing lipstick or gloss to glide on flawlessly and stay in place.
Versatile Usage: Sugar Kiss Lip Scrub is versatile and can be used whenever you feel the need for lip pampering. Use it before applying lip color or as part of your nightly skincare routine.
The REVOLUTION Sugar Kiss Lip Scrub is your key to achieving irresistibly smooth and sweet lips effortlessly. Whether you have a busy day ahead or want to pamper your lips before a special occasion, this lip scrub is your trusted companion. It's a must-have addition to your beauty collection, offering exfoliation, deep hydration, and a deliciously sweet experience.
Unlock the joy of soft, kissable lips that empower you to look and feel your best with REVOLUTION Sugar Kiss Lip Scrub. Say goodbye to dry, flaky lips and hello to a world of sweet confidence with REVOLUTION – where beauty meets indulgence.
How to Use:
Prep Your Lips: Start with clean, dry lips for the best results.
Apply the Scrub: Scoop a small amount of the lip scrub onto your fingertip and gently massage it onto your lips using a circular motion. The sugar crystals will exfoliate away dead skin cells.
Rinse or Wipe: After exfoliating, you can either rinse your lips with warm water or gently wipe away the scrub with a damp cloth.
Enjoy Sweet Lips: Revel in the smoothness and sweetness that Sugar Kiss provides. Follow up with your favorite lip balm or lip color, and your lips will be ready to shine.
Ingredients:
Sucrose, Paraffinum Liquidum (Mineral Oil, Huile Minerale), Polyethylene, Butyrospermum Parkii (Shea Butter), Aroma (Flavour), Butylene/ethylene/styrene Copolymer, Propylparaben, Bht, Polybutene, Isopropyl Myristate, Petrolatum , Bis-diglyceryl Polyacyladipate-1, Ethylhexyl Palmitate, Ci 19140 (Yellow 5).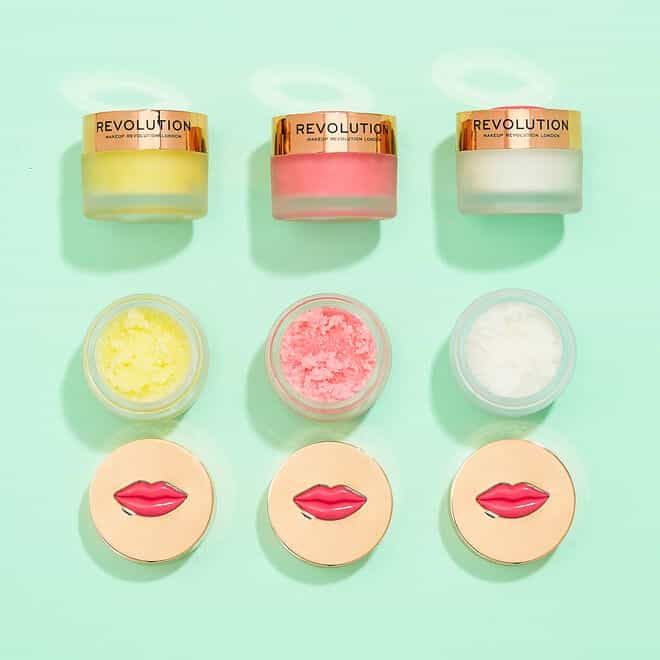 Buy 100% authentic REVOLUTION Sugar Kiss Lip Scrub at Agetune. We provide cash on delivery in all over Bangladesh.