Benefits:
SKIN1004 Madagascar Centella Toning Toner that soothes, exfoliates, hydrates and brightens in equal measure. It contains 84% centella asiatica extract, hyaluronic acid, betaine, alongside other brightening and anti-aging ingredients to produce a fresh, supple, wrinkle-free finish. To use, soak a proper amount in cotton pad and wipe onto cleansed face, patting gently for optimal absorption.
Contains 84% of Centella Asiatica Extract to soothe and moisturise the irritated skin.
Contains 15 kinds of EWG green grade essential ingredients for skin care.
Provides mild peeling with PHA for sensitive skin to create smooth and bright skin finish.
Moisturises skin with Hyaluronic Acid and offers skin oil-water balance care with Betaine.
Whitens skin with Niacinamide and improves wrinkles with Adenosine.
How to use:
After cleansing, pour a proper amount on cotton pad and wipe along skin texture gently then pat for absorption.
Ingredients:
Centella Asiatica Extract (84%), Purified Water, Dipropylene Glycol, 1,2-Hexandiol, Niacinamide, Glu/conoractone, Thrometamine, Carbomer, Sodium Citrate, Adenosine, Disodium EDTA, Dipotacium Glycide, Betaine, Hyaluronic Acid, Ethylhexyglycerin.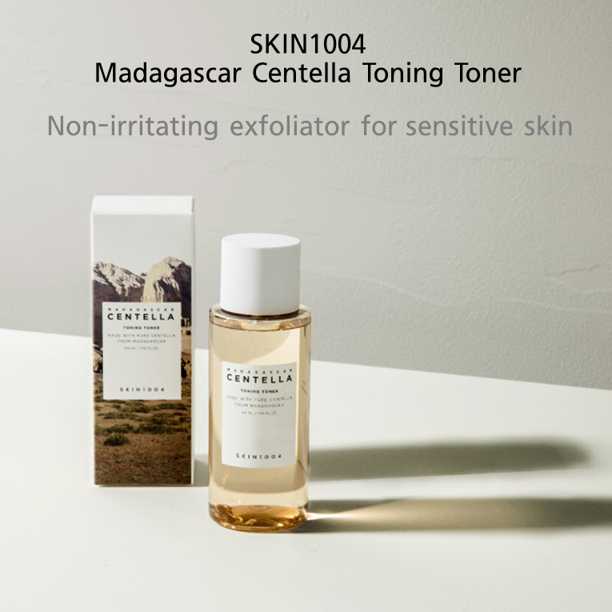 Buy 100% authentic SKIN1004 Madagascar Centella Toning Toner at Agetune. We provide cash on delivery in all over Bangladesh.