Benefits:
A flawless makeup look is a work of art, but ensuring it stays fresh and intact throughout the day can be a challenge. If you're in search of a setting spray that locks in your makeup, controls shine, and provides long-lasting wear, then the LA GIRL Pro Setting Spray is your makeup's best friend.
The Power of Makeup Setting Sprays
Before we dive into the specifics of LA GIRL's Pro Setting Spray, let's understand why makeup setting sprays have become an essential step in makeup routines. Makeup setting sprays are designed to seal your makeup, creating a protective barrier that prevents it from melting, fading, or smudging throughout the day. They offer a long-lasting finish that keeps your makeup looking fresh.
LA GIRL Pro Setting Spray: Your Makeup's Best Friend
The LA GIRL Pro Setting Spray is not just another setting spray; it's your ultimate solution for locking in your makeup with confidence. Here's what makes it stand out:
Long-Lasting Hold: This setting spray provides a long-lasting hold that keeps your makeup in place for hours, reducing the need for touch-ups.
Matte Finish: If you have oily skin or prefer a matte finish, you'll appreciate this setting spray's ability to control shine and leave your skin looking matte and flawless.
Hydrating Formula: Despite its matte finish, the Pro Setting Spray's formula is hydrating and comfortable on the skin, preventing dryness or discomfort.
Weightless Feel: The lightweight formula feels weightless on your skin, so you can enjoy a locked-in makeup look without feeling heavy or greasy.
Minimizes Transfer: It forms a protective barrier that minimizes makeup transfer onto clothing or face masks, making it ideal for all-day wear.
Sets and Refreshes: Use it to set your makeup after application or as a mid-day refresher to revive your makeup and maintain its vibrancy.
Suitable for All Skin Types: LA GIRL's Pro Setting Spray is suitable for all skin types, including sensitive skin. It's dermatologist-tested and gentle on the skin.
Budget-Friendly: Offering professional-quality results at an affordable price, this setting spray allows beauty enthusiasts of all budgets to enjoy its benefits.
How to Use:
Complete your makeup routine as usual, including foundation, concealer, blush, eyeshadow, mascara, and lipstick.
Hold the Pro Setting Spray bottle about 8-10 inches away from your face.
Close your eyes and mouth, then mist the setting spray evenly across your face. You can use a 'T' and 'X' motion to ensure even coverage.
Allow the setting spray to air dry naturally. Do not touch or fan your face during this time.
Once dry, your makeup will be set in place, and you can enjoy long-lasting wear without worrying about smudging or fading.
For a mid-day refresh, simply mist the setting spray lightly over your makeup to revive its freshness.
Ingredients:
Water, Alcohol, VP/VA Copolymer, Propylene Glycol, Disodium EDTA, Niacinamide, Sodium Salicylate, Plantago Lanceolata Leaf Extract, Mahonia Aquifolium Flower/Leaf/Stem Extract, Phenoxyethanol.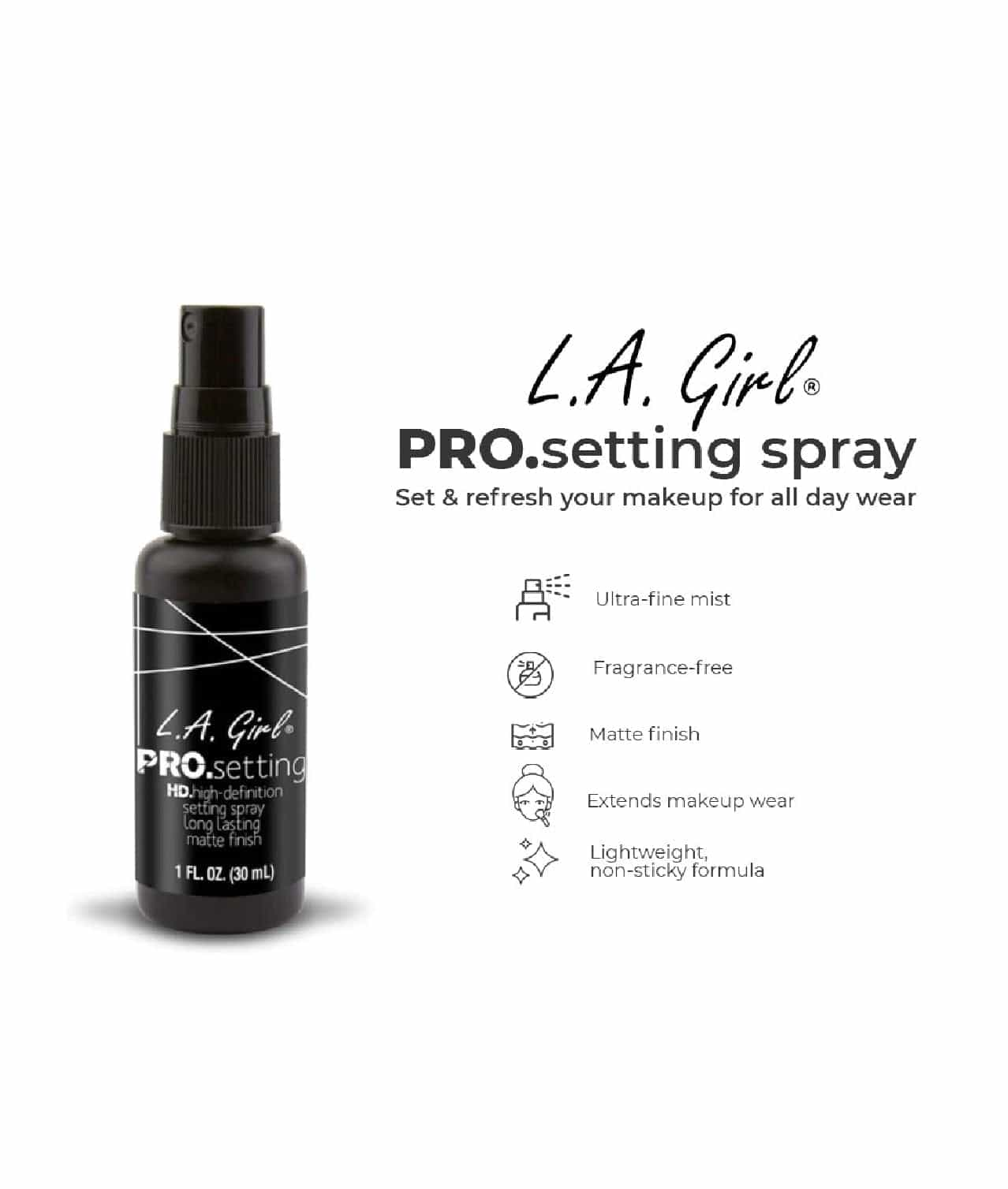 Buy 100% authentic LA GIRL Pro Setting Spray at Agetune. We provide cash on delivery in all over Bangladesh.