Achieve Precision Eyeliner with the PIGMENT PLAY Precision Liner Brush
In the world of makeup, precise eyeliner application can define and enhance your eyes. If you're searching for a high-quality precision liner brush to help you create flawless and sharp eyeliner looks, look no further than the PIGMENT PLAY Precision Liner Brush.
What Sets the PIGMENT PLAY Precision Liner Brush Apart?
Professional-Grade Quality: This precision liner brush is crafted with professional-grade quality in mind. It's designed to provide exceptional results, making it an invaluable addition to your makeup brush collection.
Fine-Tipped and Firm Bristles: The brush features fine-tipped and firm bristles that are perfect for achieving precise and sharp lines. Whether you prefer gel eyeliner, liquid liner, or even eyeshadow as eyeliner, this brush can handle it all.
Ideal for Winged Liner: The precision liner brush is ideal for creating winged eyeliner looks. Its fine tip allows you to create the perfect wing with ease.
Versatile Use: While it's primarily designed for eyeliner, this brush can also be used for precise eyeshadow application, defining the brows, or even for adding tiny details to your makeup look.
Soft and Gentle Bristles: The brush is made with soft, gentle bristles that feel comfortable on your eyelids. It ensures that the application process is smooth and free from irritation.
Cruelty-Free and Durable: Beauty should be cruelty-free and long-lasting. PIGMENT PLAY's Precision Liner Brush is both cruelty-free and durable, ensuring it remains a reliable tool in your makeup routine.
The PIGMENT PLAY Precision Liner Brush is your secret to achieving precise and flawless eyeliner looks with ease. With its professional-grade quality, fine-tipped bristles, versatile use, soft bristles, and commitment to ethical beauty, this brush empowers you to perfect your eyeliner application and showcase your beauty with confidence. Elevate your eye makeup game and achieve precision perfection with the Precision Liner Brush by PIGMENT PLAY.
How to Use:
Prep Your Eyelids: Start with clean and dry eyelids. If you're using eyeshadow as eyeliner, you can apply an eyeshadow primer for better color payoff.
Pick Up Eyeliner: Depending on your preference, you can dip the Precision Liner Brush into gel eyeliner, liquid eyeliner, or eyeshadow (applied wet) as eyeliner. Make sure to pick up a small amount of product.
Start at the Inner Corner: Begin your eyeliner application from the inner corner of your eye. Use short, controlled strokes to create a thin line along your upper lash line.
Extend the Line: Continue the line, gradually making it thicker as you move towards the outer corner of your eye. If you're creating a winged liner, extend the line slightly beyond the outer corner.
Perfect the Wing: To create a wing, draw a short diagonal line from the outer corner of your eye towards the end of your eyebrow. Connect this line with the upper lash line to form the wing. Adjust the angle and length to your preference.
Fill in and Connect: Fill in any gaps and ensure a smooth, continuous line along the upper lash line.
Clean Up as Needed: If necessary, use a makeup remover or concealer on a separate brush to clean up and perfect the edges of your eyeliner.
Admire Your Precise Eyeliner: Step out with confidence, knowing you've achieved precise and flawless eyeliner with the PIGMENT PLAY Precision Liner Brush.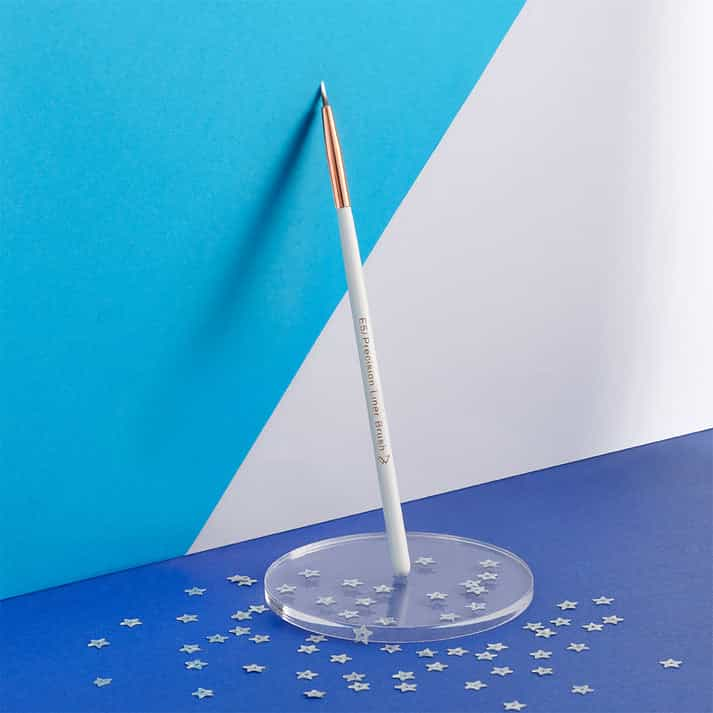 Buy 100% authentic PIGMENT PLAY Precision Liner Brush at Agetune. We provide cash on delivery in all over Bangladesh.