Benefits:
Unveil the secret to a flawless, matte complexion with REVOLUTION HD Super Matte Banana Powder.
Discover the Magic of REVOLUTION HD Super Matte Banana Powder
Matte Radiance: The REVOLUTION HD Super Matte Banana Powder is your go-to solution for a radiant matte finish. It effectively eliminates excess shine while brightening your complexion, giving you a flawless, lit-from-within look.
Long-Lasting Wear: Formulated for long-lasting wear, this banana powder keeps your makeup in place throughout the day. No more worrying about midday touch-ups; enjoy a fresh, matte look from morning to night.
Brightening Effect: The subtle yellow undertone of the banana powder acts as a color corrector, neutralizing redness and discoloration. It's particularly effective in brightening the under-eye area, concealing dark circles, and making your skin look more refreshed.
Fine Texture: The finely milled texture of this powder allows for smooth and even application. It minimizes the appearance of pores and fine lines, creating a soft-focus effect for a picture-perfect finish.
Versatile Usage: The Super Matte Banana Powder is versatile and can be used in various ways. It sets your foundation, conceals imperfections, and can even be used for baking your makeup for a long-lasting, matte look.
The REVOLUTION HD Super Matte Banana Powder is your secret to achieving a shine-free and radiant complexion with ease. Whether you have a busy day ahead or want your makeup to look its best for a special occasion, this banana powder is your trusted companion. It's a must-have addition to your beauty collection, offering matte radiance, brightening, and all-day comfort.
Experience the joy of makeup that empowers you to look and feel your best with the REVOLUTION HD Super Matte Banana Powder. Say goodbye to shine and hello to a world of matte radiance and flawless confidence with REVOLUTION – where beauty meets perfection.
How to Use:
Prep Your Skin: Start with clean, moisturized skin to ensure a smooth base for your makeup.
Apply Foundation: Begin with your foundation routine, ensuring an even and well-blended application.
Set Your Makeup: Using a makeup brush or sponge, apply the Super Matte Banana Powder to the areas of your face prone to shine, such as the T-zone. For an extra matte finish, you can also use the "baking" technique by applying a thicker layer of powder, letting it sit for a few minutes, and then dusting off the excess.
Blend Thoroughly: Gently blend the powder into your skin, ensuring it seamlessly sets your makeup and brightens your complexion.
Enjoy Matte Radiance: With the Super Matte Banana Powder, you can confidently embrace a matte, radiant finish that stays fresh throughout the day.
Ingredients:
Talc, Aluminum Starch Octenylsuccinate, Mica, Methylparaben, Propylparaben, Ci 77491 (Iron Oxides), Ci 77492 (Iron Oxides).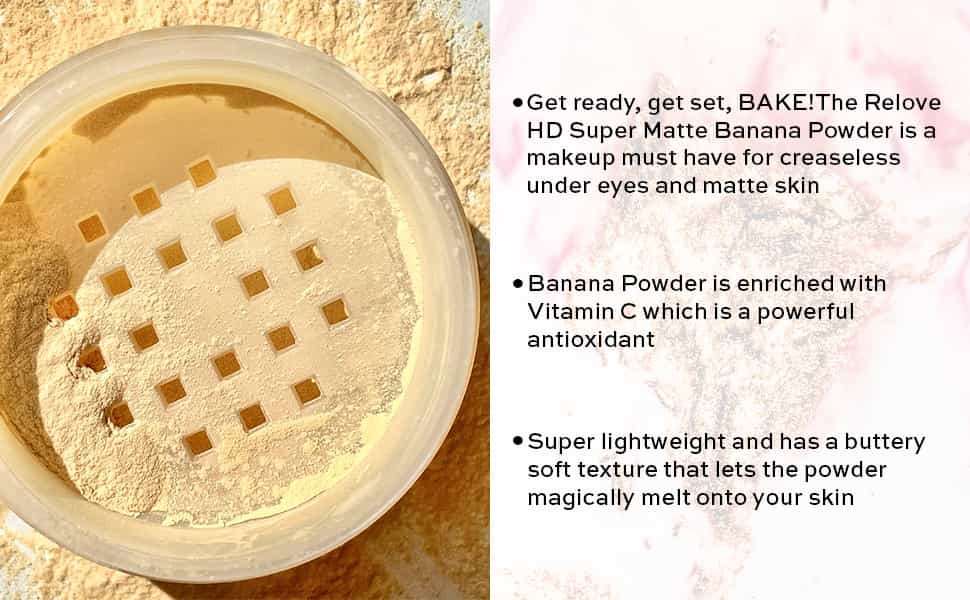 Buy 100% authentic REVOLUTION HD Super Matte Banana Powder at Agetune. We provide cash on delivery in all over Bangladesh.