Benefits:
Unlock the secret to achieving bold and precise eyeliner looks with the REVOLUTION Relove Dip Eyeliner.
Discover the Excellence of REVOLUTION Relove Dip Eyeliner
Effortless Eyeliner Mastery: The REVOLUTION Relove Dip Eyeliner is designed to make eyeliner application a breeze, whether you're a seasoned makeup artist or a beginner just starting to experiment with eyeliner.
Intense Black Pigmentation: This eyeliner features an intensely black formula that adds depth and intensity to your eye makeup. It's the perfect choice for creating striking winged liner, bold cat eyes, or precise lines that define your eyes.
Precise Dip Applicator: The eyeliner comes with a precise dip applicator that allows you to control the thickness and shape of your lines with ease. Achieve fine lines for a natural look or bold, dramatic lines for a statement style.
Long-Lasting Wear: Formulated for long-lasting wear, the Relove Dip Eyeliner remains smudge-proof and fade-resistant throughout the day or night, ensuring that your eye-defining looks stay fresh and captivating.
Versatile Application: Whether you're aiming for a classic eyeliner look, graphic liner, or experimenting with intricate designs, this eyeliner's versatile formula and applicator make it a versatile addition to your makeup routine.
The REVOLUTION Relove Dip Eyeliner is your key to achieving precise and striking eyeliner looks that leave a lasting impression. Whether you have a busy day ahead or want to make a bold statement for a special occasion, this eyeliner is your trusted companion. It's a must-have addition to your makeup collection, offering precision, intensity, and long-lasting perfection.
Elevate your eye game with the REVOLUTION Relove Dip Eyeliner and experience the joy of eyeliner that empowers you to define your eyes with confidence. Say goodbye to smudged liners and hello to a world of eye-defining beauty with REVOLUTION – where beauty meets precision.
How to Use:
Prepare Your Canvas: Start with clean, dry eyelids to ensure that your eyeliner adheres smoothly and lasts longer.
Dip and Line: Dip the precise applicator into the eyeliner formula and start lining your eyes. Begin from the inner corners and work your way outward, following your desired eyeliner style.
Perfect Your Wing: For winged eyeliner, create a guide by extending a line from the outer corner of your eye towards the end of your eyebrow. Then, connect it to the rest of your eyeliner, forming a winged shape.
Experiment and Express: Don't be afraid to experiment with different eyeliner styles and designs. Whether it's a classic look or a bold statement, the REVOLUTION Relove Dip Eyeliner empowers you to express your creativity.
Enjoy Long-Lasting Beauty: With this eyeliner, you can confidently flaunt your stunning eye-defining looks all day long, knowing they won't smudge or lose their impact.
Ingredients:
Aqua (Water, Eau), Acrylates Copolymer, Hydroxyethylcellulose, Propylene Glycol, Polysorbate 60, Phenoxyethanol, Ethylhexylglycerin, Parfum (Fragrance), Ci 77499 (Iron Oxides)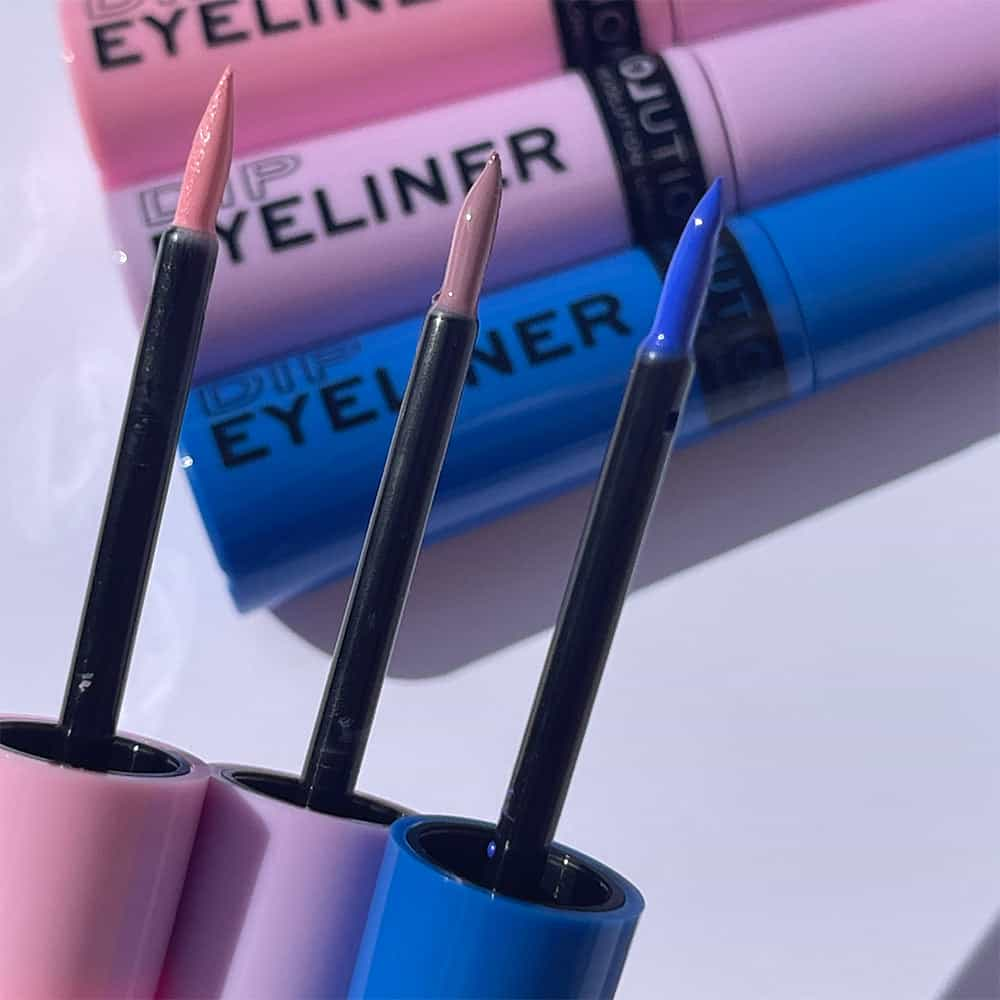 Buy 100% authentic REVOLUTION Relove Dip Eyeliner at Agetune. We provide cash on delivery in all over Bangladesh.