Benefits:
ATOMY Evening Care Set made with carefully selected herbs and natural ingredients (like ginseng, ginkgo, carrot extracts, Jade powder and amethyst powder) to leave your face clean, silky-smooth, and moisturized throughout the night while treating troubled areas at the same time.
Deep Cleanser – removes makeup and cleanses clogged pores
Deeply cleanses: Removes makeup and sebum deeply in the skin.
Keeps skin firm: Ginseng and ginkgo Biloba extract provide vitality into tired skin to keep skin firm.
Brilliant skin tone: Green tea extract controls the skin tone brilliantly, making it clean and clear.
Glossy skin: Carrot extract and tocopherol acetate provides nutrients to the cleansing effect to make your skin glossy and moist.
Foam Cleanser – the rich lather washes away impurities and dirt in pores.
Trouble care: Trichloroacetic acid removes various causes of skin trouble from harmful environmental substances and stress to create healthy skin and helps to keep a fresh feel for a long time. Glycyrrhetinic acid contents soothe skin troubles and comfort sensitive skin.
Rich moisturizing effect: The beta-glucan moisturizing agent prevents tightening of the skin after face wash, while nutrients of Phellinus linteus/vegetable worm extracts make your skin glossy
Peeling Gel – gently peels off dead skin cells (i.e. nonabrasive exfoliator)
Moisturizing effect: By containing components with excellent moisturizing effect,  it prevents skin dryness after peeling and maintains skin moistness for a long time
Skin-soothing: Citrus grandis (grapefruit) peel extract calms skin sensitized from harmful environments
Applies softly with a light feeling in use
Makes cosmetics absorb well and leaves skin silky-smooth
Finishes with a fresh feeling
Peel Off Mask – firms skin and tightens pores.
Energizing care: Jade powder and amethyst powder helps activate the circulation of the skin and restores skin health
Firming effect: With the contraction of pack composite, the opened pores are retightened and skin is lifted
Trouble care: Citrus grandis peel extracts and Portulaca extracts calms irritated skin from the environment while glycine derivatives and glycerin calms dried and crumbling skin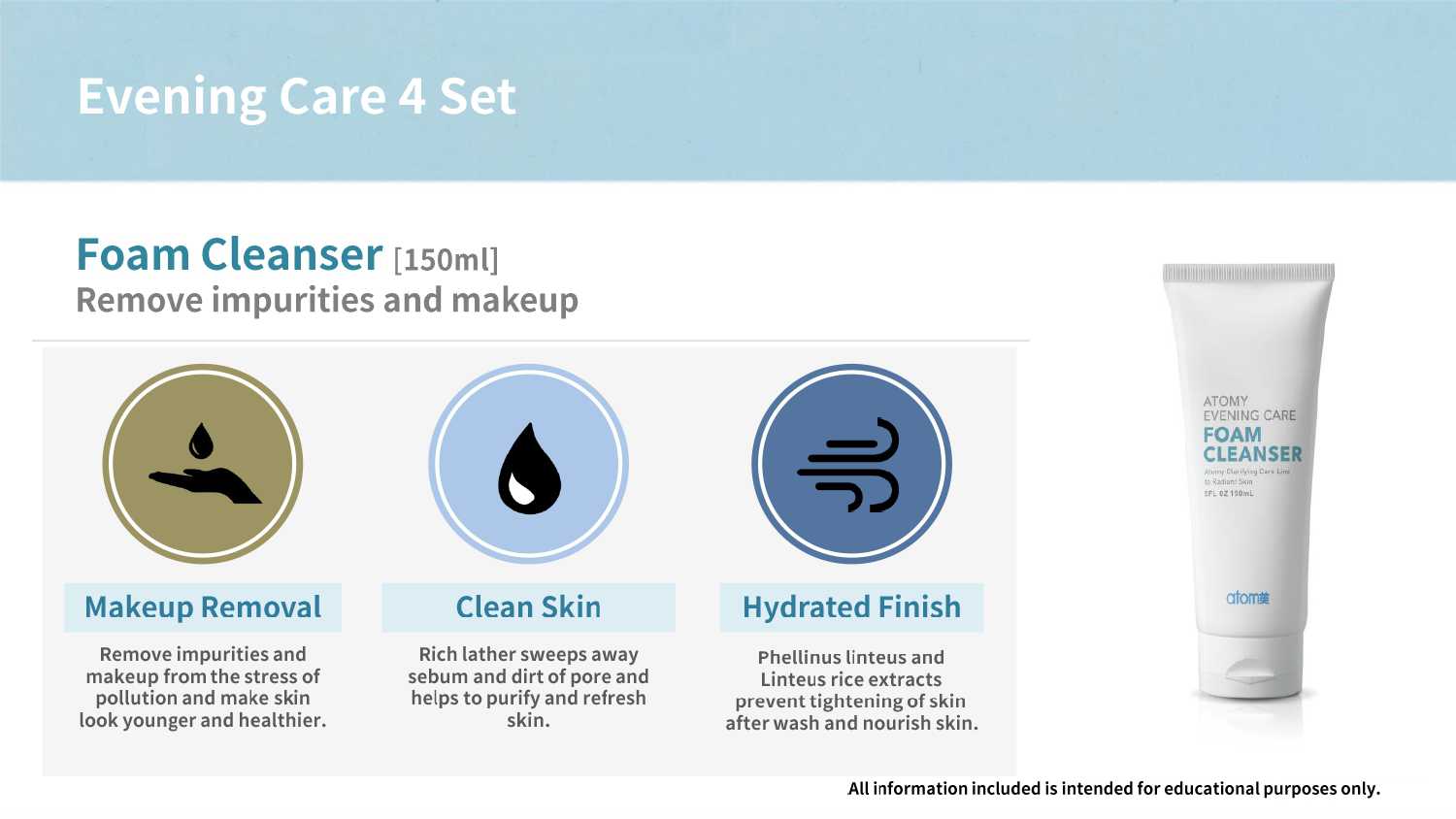 How to Use:
Buy 100% authentic ATOMY Evening Care Set at Agetune. We provide cash on delivery in all over Bangladesh.