Benefits:
KLAIRS Gentle Black Deep Cleansing Oil uses various vegetable oils like black sesame and black bean oils to help remove makeup, stubborn dirt and excess oil from skin without leaving it tight and dry.
KLAIRS Gentle Black Deep Cleansing Oil is a skincare product designed to remove impurities, makeup, and excess oil from the skin.
It is suitable for all skin types, including sensitive skin.
The main ingredient is black bean oil, known for its antioxidant properties.
It also contains natural oils like black sesame oil, black currant seed oil, and jojoba seed oil to nourish and hydrate the skin.
It leaves the skin clean, refreshed, and moisturized.
The formula is non-stripping and suitable for dry or sensitive skin.
It is free from parabens, artificial fragrances, and colorants.
How to Use:
Start with dry hands and a dry face. Ensure that your face is free from any water or moisture.
Take an appropriate amount of the cleansing oil into your palms. The recommended amount is about 2-3 pumps, but you can adjust it according to your preference.
Gently massage the oil onto your face using circular motions. Make sure to cover your entire face, including the forehead, cheeks, nose, and chin. You can also massage it onto your neck if desired.
As you massage, the oil will emulsify and turn into a milky texture, helping to dissolve makeup, dirt, and impurities on your skin.
Take your time to massage the oil into your skin, focusing on areas with heavy makeup or buildup.
After massaging for a sufficient amount of time (usually around 1-2 minutes), wet your hands with lukewarm water.
Continue massaging your face with wet hands, allowing the water to mix with the oil. This emulsifies the oil further and helps to remove any remaining impurities.
Rinse your face thoroughly with lukewarm water until all traces of the cleansing oil are gone. Make sure there is no oily residue left on your skin.
Pat your face gently with a clean towel to dry it.
Follow up with your regular skincare routine, such as toner, serum, and moisturizer.
It's recommended to use the KLAIRS Gentle Black Deep Cleansing Oil in the evening as the first step of your double cleansing routine, especially if you're wearing makeup or sunscreen during the day. This will ensure that your skin is thoroughly cleansed before applying any other skincare products.
Ingredients:
Caprylic/Capric Triglyceride, Cetyl Ethylhexanoate, Isononyl Isononanoate, PEG-7 Glyceryl Cocoate, Isopropyl Myristate, Simmondsia Chinensis (Jojoba) Seed Oil, Glycine Soja (Soybean) Oil, Sesamum Indicum (Sesame) Seed Oil, Ribes Nigrum (Black Currant) Seed Oil, Tocopheryl Acetate, PEG-20 Glyceryl Triisostearate, Polysorbate 20, Fragrance, Butyrospermum Parkii (Shea) Butter, Carapa Guaianensis Seed Oil, Vaccinium Macrocarpon (Cranberry) Seed Oil.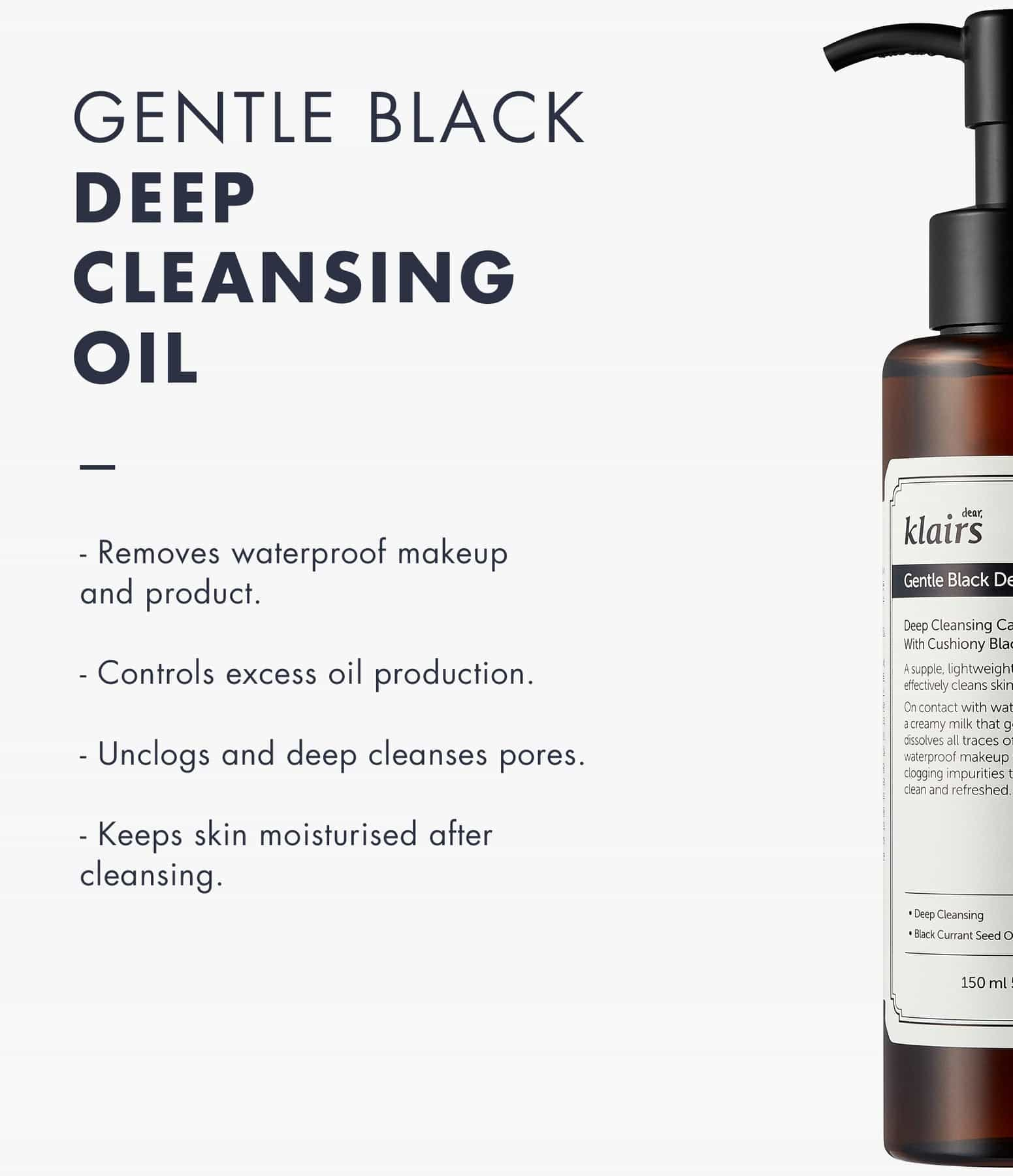 Buy 100% authentic KLAIRS Gentle Black Deep Cleansing Oil at Agetune. We provide cash on delivery in all over Bangladesh.