Benefits:
Elevate Your Eye Makeup with the NICKA K Nine Color Eyeshadow Palette
When it comes to creating stunning eye looks, having a versatile and high-quality eyeshadow palette is essential. The NICKA K Nine Color Eyeshadow Palette is a makeup enthusiast's dream, offering a range of beautiful shades and endless possibilities.
Key Features of the NICKA K Nine Color Eyeshadow Palette
Nine Gorgeous Shades: This palette features nine carefully curated eyeshadow shades, including both matte and shimmer finishes. You'll find a variety of colors to create both everyday and glamorous eye looks.
High Pigmentation: The eyeshadows in this palette are highly pigmented, ensuring vibrant and long-lasting color payoff. A little goes a long way, so you can create intense eye looks with ease.
Blendable Formula: The eyeshadows have a blendable formula that makes them easy to work with. Whether you're a makeup beginner or a seasoned pro, achieving a seamless blend is a breeze.
Versatile Color Range: The palette includes neutral shades for everyday wear, as well as bold and vibrant colors for special occasions. You can mix and match shades to create a wide range of eye makeup looks.
Travel-Friendly: The compact size of the palette makes it perfect for on-the-go makeup application. You can easily slip it into your makeup bag or purse for touch-ups throughout the day.
Cruelty-Free: NICKA K is known for its commitment to ethical beauty. The eyeshadows in this palette are cruelty-free, so you can enjoy beautiful makeup without compromising your values.
The NICKA K Nine Color Eyeshadow Palette is your ticket to endless eye makeup possibilities. With its versatile shades, high pigmentation, blendable formula, and travel-friendly design, this palette empowers you to express your creativity and enhance your natural beauty. Elevate your eye makeup game and create stunning looks with the NICKA K Nine Color Eyeshadow Palette.
How to Use:
Prime Your Lids: Start by applying an eyeshadow primer to your eyelids to create a smooth base and help the eyeshadows adhere better.
Choose Your Colors: Select the eyeshadow shades that you want to use for your look. You can mix and match shades to create depth and dimension.
Lid Application: Use an eyeshadow brush or your fingertip to apply the eyeshadow color of your choice to your eyelids. Pat the color onto the lid for maximum intensity.
Crease Definition: Use a crease brush to apply a slightly darker shade to the crease of your eye. Blend well to create a soft transition between colors.
Highlight: Apply a shimmery or lighter shade to the inner corners of your eyes and under your brow bone to highlight and brighten your eyes.
Eyeliner and Mascara: Finish your look by applying eyeliner to your upper lash line and mascara to your lashes for added definition and drama.
Experiment and Have Fun: Don't be afraid to experiment with different color combinations and techniques to discover your favorite eye looks.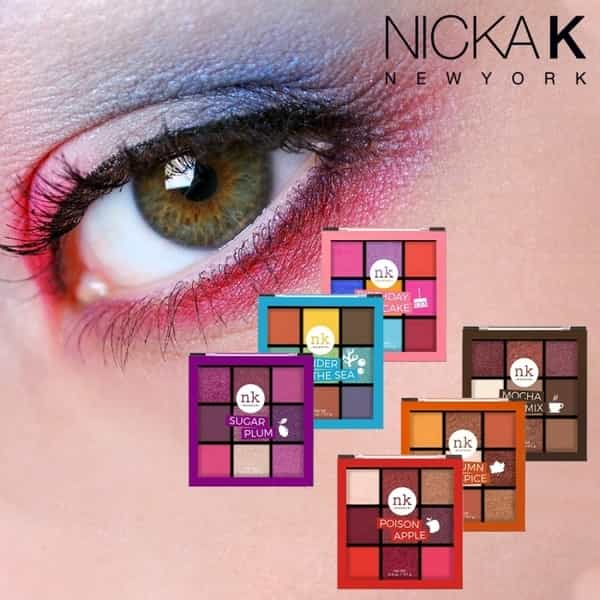 Buy 100% authentic NICKA K Nine Color Eyeshadow Palette at Agetune. We provide cash on delivery in all over Bangladesh.