Benefits:
Eyes are the windows to the soul, and with the REVOLUTION Kohl Eyeliner, you can frame them beautifully and create captivating looks.
Unveiling the Beauty of REVOLUTION Kohl Eyeliner
Timeless Elegance: The REVOLUTION Kohl Eyeliner is a classic beauty essential that has stood the test of time. Known for its rich, pigmented formula and versatility, it's a must-have item in any makeup lover's collection.
Intense Pigmentation: This eyeliner boasts intense pigmentation, ensuring that you can achieve bold and dramatic eye looks with ease. Whether you're going for smoky eyes or a subtle enhancement, this eyeliner has you covered.
Versatile Application: Kohl eyeliner is highly versatile and can be used in various ways. You can apply it to your waterline to define your eyes, use it to create a smudged, smoky effect, or even as a base for eyeshadow to enhance color vibrancy.
Long-Lasting Performance: Formulated for long-lasting wear, REVOLUTION Kohl Eyeliner stays put throughout the day or night, preventing smudging and ensuring that your eye makeup remains flawless.
Wide Shade Range: This eyeliner is available in a range of shades, from classic black and brown to vibrant colors like blue and green. You can choose the perfect shade to match your style and mood.
The REVOLUTION Kohl Eyeliner is a timeless beauty tool that adds depth, definition, and drama to your eyes. With its intense pigmentation, versatile application, long-lasting performance, and wide shade range, it's a versatile addition to your makeup collection. Whether you're a makeup enthusiast or a professional artist, this eyeliner will help you achieve stunning eye makeup effortlessly.
Frame your gaze and define your eyes with the REVOLUTION Kohl Eyeliner, and experience the joy of eye makeup that enhances your natural beauty. Say goodbye to ordinary eye looks and hello to captivating, mesmerizing eyes with REVOLUTION – where beauty meets elegance.
How to Use:
Prep Your Eyes: Start with clean, dry eyelids as the canvas for your eye makeup. Ensure that your eyelids are free from any oil or makeup residue.
Choose Your Shade: Select the Kohl Eyeliner shade that suits your look. Classic black is perfect for a timeless, elegant look, while colored options can add a playful or bold twist.
Application: Gently pull your eyelid taut and, starting from the inner corner, apply the eyeliner along your upper lash line. You can create a thin, precise line or go for a thicker, more dramatic look based on your preference.
Waterline Definition: If you want to define your waterline, carefully apply the eyeliner to the inner rim of your lower lash line. This instantly enhances the appearance of your eyes.
Smudged Effect: To create a smudged, smoky effect, use a smudging brush or your fingertip to blend the eyeliner along your lash line. This technique adds depth and intensity to your eye makeup.
Set with Eyeshadow (Optional): If you want your eyeliner to last even longer, you can set it with a matching eyeshadow using a fine brush. This helps lock the color in place.
Ingredients:
C10-18 Triglycerides, Ozokerite, Polyethylene, Caprylic-/capric Acid Triglyceride, Ethylhexyl Palmitate, Calcium Aluminum Borosilicate, Cera Microcristallina (Microcrystalline Wax, Cire Microcrystalline) , Mica, Talc, Carnauba Wax, Phenoxyethanol, Tocopheryl Acetate, Capryly Glycol, Tin Oxide, Ci 77891 (Titanium Dioxide), Ci 77491 (Iron Oxide), Ci 77492 (Iron Oxide).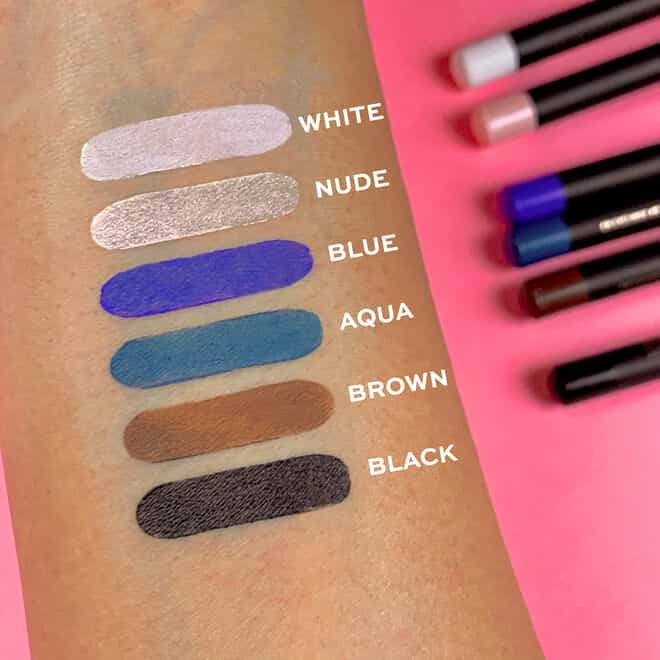 Buy 100% authentic REVOLUTION Kohl Eyeliner at Agetune. We provide cash on delivery in all over Bangladesh.